9 Refreshing Summer Cocktails That Only Require Three Ingredients
We asked bartenders to give us their go-to three-ingredient summer cocktails. Their selections didn't let us down.
by Nicholas McClelland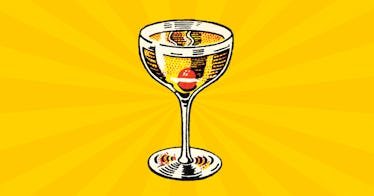 What makes a great summer cocktail? It should be refreshing, sure. But, after that, it depends. Some prefer something that takes advantage of the season's flavors; others prefer an old favorite that just feels right in the hot months. Everyone can agree, however, that simplicity reigns supreme when it comes to summer drinks. Cocktails with a laundry list of ingredients are fun to build in the fall and winter when there's time to kill. But summer? The fewer the ingredients the better. Less time fiddling with ingredients; more time sipping them on a comfy chair.
That's why we asked a group of bartenders for the recipes to their go-to three ingredient summer cocktails (not including garnishes) Why three ingredients? Eh, it felt right. Two ingredients puts you in highball land — not that there's anything wrong with that; anything greater than three — again, who has time for that?
The bartenders we spoke to were happy to oblige and below you'll find a list of their selections, which includes traditional spritzes, daiquiris, and rum punches as well as bourbon-based lemony cocktails and a citrus-forward chartreuse cocktail. Chances are you'll find a new favorite below.
1. The Apertivo Select Spritz
Recommended by: Johnny Swet of Jimmy's Rooftop Bar in New York City.
Why: "My favorite three-ingredient drink/cocktail for summer is the Apertivo Select Soritz. The original Bitter Aperitivo has a mature deep flavor and is so simple. You go enjoy a nice long summer day/night without getting too drunk…"
Ingredients:
2 oz Aperitivo Select Equal parts of Prosecco and Seltzer Orange slice and olives
Directions: Pour Apertivo, Prosecco, and seltzer into a wine glass filled with ice. Garnish with orange slice and olive.
2. The Classic Daiquiri
Recommended by: Deke Dunne head bartender and beverage director at Allegory DC in Washington, DC
Why: "I had never known true love until I tried a properly made Daiquiri for the first time. It is a simple cocktail: white rum, lime juice, and sugar. The beauty of the drink lies in the quality of its ingredients and how the bartender puts them together. When made properly, a Daiquiri is light, refreshing, tropical, and effervescent. Not to mention that it tastes like positivity in a glass. I think we can all agree that little positivity is what everyone needs right now."
Ingredients:
2 oz White Rum (Deke prefers Probitas by Foursquare Rum Distillery) .75 oz Fresh Squeezed Lime Juice *.50 oz Rich Cane Syrup
*To make rich cane syrup, add one cup of water to a sauce pan and bring it to a simmer. Add two cups of white cane sugar to the pan and stir until the sugar has dissolved. Transfer the syrup to a container, seal, and refrigerate.
Directions: Add ingredients to a mixing tin, add ice, and shake for 10 seconds. Strain into stemmed glass and enjoy.
3. The Jolly Roger
Recommended by: Teddy Folkman, food and beverage manager at Timbers Kiawah in Kiawah, South Carolina
Why: "Defining its sense of place at Timbers Kiawah with a symbolic taste of island living, the Jolly Roger blends coconut rum with a refreshing punch mix to offset the warm Lowcountry beachfront temperatures."
Ingredients:
3 oz Kiawah Punch (Equal parts pineapple, orange, and cranberry juice) 1.5 Ounces Coconut Rum 1.5 Ounces Bacardi Silver Rum
Directions: Shake and serve over ice in a Collins glass.
4. The Bee's Knees
Recommended by: Head bartender Sam Nelis of Barr Hill Gin Distillery in Montpellier Vermont
Why? "The Bee's Knees is one my all-time favorite three-ingredient cocktails because it's the best. No really, it literally means "the best" in prohibition -era slang. Gin, Lemon, and Honey. This cocktail showcases the importance of the quality of ingredients used. It could not taste the best if the gin is of poor quality, or the lemon isn't fresh, or the honey is some sort of mass produced 'honey' that is mostly just sugar syrup."
Ingredients:
2 oz Barr Hill Gin 0.75 oz Fresh Lemon Juice 0.75 oz Raw Honey Syrup (2 parts honey : 1 part hot water, mix and let cool) Lemon Twist Garnish
Directions: Add ingredients to mixing tin with ice, shake, and strain into a coupe glass, garnish with a lemon twist.
5. The 'Like a Monet'
Recommended by: Morgan Barron, lead bartender at The Banneker inWashington D.C.
Why: "'Like A Monet' is a riff on a classic Chartreuse Swizzle invented in the Bay Area in the early 2000s. Often a supporting spirit, the high-octane, herbal Chartreuse is center stage in this cocktail. This icy cocktail is refreshing for summertime with citrusy lime and a pineapple flavor that pops with mint and a nutty scent to pack a flavor."
Ingredients:
1.5oz Green Chartreuse 2.5oz Fresh Pineapple-Lime Juice 0.5oz Nutmeg Syrup Garnish: Mint, Grated Nutmeg
Directions: Add all ingredients into a Collins glass filled with ice. Stir with bar spoon and garnish with mint and grated nutmeg.
6. The Aperol Spritz
Recommended by: Will Friedrichs, director of food & beverage, The Harpeth Hotel, Franklin, Tennessee
Why: "Pair Aperol with bubbly wine and sparkling water, and you'll be hard-pressed to find a more refreshing and thirst-quenching cocktail. And because it's low in alcohol, you can start drinking early and still make it to dinner."
Ingredients:
3oz. Prosecco 2oz. Aperol 1oz. club soda Garnish: Orange slice
Directions: Add Prosecco, Aperol, and club soda to a wine glass filled with ice. Stir and garnish with orange slice.
7. The Blood Orange Aperol Spritz
Recommended by: Cory Strobaugh, Beverage Manager Shore Lodge and Whitetail Club, McCall, Idaho
Why: "Nothing celebrates heat waves and open patios more than the Aperol Spritz. Shore Lodge took a spin on this Italian classic by replacing Club Soda with Blood Orange Pellegrino, making this simple summer thirst quencher a patio patrons must have."
Ingredients:
1.5oz Aperol 2oz Prosecco 2oz Blood Orange Pellegrino
Instructions: Add Prosecco, Aperol, and Pellegrino to a wine glass filled with ice. Stir and garnish with orange slice.
8. The Violet Skies
Recommended by: Austin, Bartender Peregrin at the Perry Lane Hotel in Savannah, Georgia
Why: "Our Violet Skies cocktail is a light and refreshing option for the summer months. In addition to being beautiful on its own, it matches the violet hues that are painted across the sky as the golden hour approaches."
Ingredients:
1/2 oz giffard violette
5 dashes lavender bitters Prosecco
Directions: Add giffard and bitters into a chilled champagne flute. Top with Prosecco.
9. The 'A Sip of Serenity'
Recommended by: TJ Pierri, general manager, Pelican Grand Beach Resort in Fort Lauderdale, Florida
Why: "What makes this cocktail so interesting is the option for variety – with many types of craft bourbons to choose from and different varieties of honey, each version could be completely unique."
Ingredients:
2 oz. Bourbon 3/4 oz. honey syrup* 3/4 oz. fresh lemon juice
*To make honey syrup, combine one cup honey and 1/3 cup water in a pot over medium heat. Stir well until thoroughly combined. Remove from heat and let cool. Store refrigerated in a tightly concealed container until ready for use
Directions: Combine all ingredients in a cocktail shaker filled with ice and shake vigorously until the drink is sufficiently chilled. Strain into a chilled Double Old-Fashioned glass with a single large ice cube.