8 Stylish Easter Ties For Boys, Babies, and Toddlers
These eight Easter ties give your kids a stylish spring upgrade.
by Ben Marx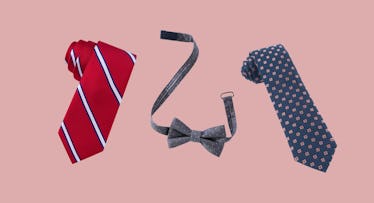 Sure, Easter is a day of surprise eggs, Easter baskets, jelly beans, and bunnies. But it's also, obviously, a day for religious celebration and the coming of spring. This inevitably means dressing up and celebrating with family and friends. And if you want your kid to look snazzy on Easter, during a dinner, brunch, or Easter Mass, a nice tie is necessary. These eight Easter ties for boys are not only stylish, but they'll also fit kids for a few special occasions to come. That is, if your kid somehow avoids getting stains all over it.
RELATED: The Best Easter Gifts for Kids Under $50
OskKosh Chambray Polka Dot Bowtie
Few things look better than a baby in a bow tie. This chambray number comes pre-tied and is sturdy enough to survive a few tugs. Just be extra sure it's not too tight and to take it off before Easter brunch starts — even well-dressed babies are messy eaters.
For: Infants through 4-year-olds
Dazi White Floral Tie
Dazi's line of kids' ties feature several snazzy designs from their same offerings for adults, just scaled down. We dig this floral tie which, yeah, is white but the flowers should cover up any stains that inevitably get all over it.
For: Babies through 6-year-olds
Ralph Lauren Solid Crest Boys Tie
There's nothing wrong with an old standard. Ralph Lauren's silk navy kids tie features a regal crest and go-with-anything style that will see your kid through dressy occasions up to Middle School.
For: 4- to 10-year-olds
Tommy Hilfiger Repp Stripe Tie
Tommy Hilfiger's polyester Repp Tie offers a bolder look for kids, with a bright crimson color and clean stripes.
For: 4- to 10-year-olds
Cat & Jack Black Zip Necktie
This skinny necktie comes in a traditional matte black and is easy to slip on.
For: 6- to 12-year-olds
Tie Bar Medallion Scene Kids Tie
Tie Bar's patterned Medallion Scene ties come in several colors, including Baby Pink, Light Blue, and Hunter Green. Plus, they offer matching pairs in kid and adult sizes.
For: 4- to 10-year-olds
Parsely Woven Tie For Kids
Parsley's dark green woven tie has beautiful matte finish and a striking texture, with specks of light blue woven into the green cloth.
For: 6- to 12-year olds
Cat & Jack Chambray
Maybe you're a cyclist. Maybe your kid loves anything with wheels. Maybe you just want a nice pattern to spice up his outfit. Either way, this navy necktie, featuring a playful, light blue bicycle pattern that pops up from the rest of the tie's navy color, is a good look.
For: 6- to 12-year-olds
Every product on Fatherly is independently selected by our editors, writers, and experts. If you click a link on our site and buy something, we may earn an affiliate commission.
This article was originally published on