Easter Outfits for Kids: 8 Easter Dresses For Girls, Babies, and Toddlers
Help your girl celebrate Easter in style.
by Ben Marx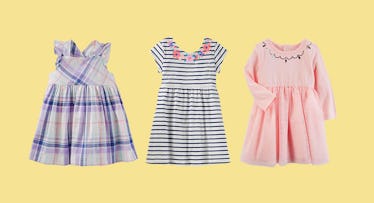 Sure, Easter is a day of surprise eggs, Easter baskets, jelly beans, and bunnies. But it's also, obviously, a day for religious celebration. This means dressing up and celebrating with family and friends. And if you want your kid to look snazzy on Easter, during a dinner, brunch, or Easter Mass, a nice Easter dress is necessary. These eight Easter dresses for girls are stylish, seasonal, and will look good in those 5,000,000 photos your extended family will take.
RELATED: Stylish Easter Ties For Boys, Babies, and Toddlers
Tulle Jersey Dress
Carter's pink, tulle dress features back snaps, a cinched waist, and a diaper cover, and its long sleeves help deal with cooler temperatures for outside get-togethers.
Cross-Back Plaid Dress
This plaid, cross-back Easter dress works great in warm weather, and its flutter sleeves give it a looser, free feel. The dress also comes with a separate diaper cover.
Rare Editions Nautical Dress with Hat
Rare Editions' adorable nautical dress is a great, full set for an Easter outfit that includes a matching hat. It zips up from the back and is machine washable.
Sparkle Floral Jacquard Dress
This sleeveless Easter dress prioritizes elegance with sparkles, a bow, a faux pearl button, and a subtle floral pattern.
Marmellata Lace Dress
A pastel, lace outfit perfect for spring weather, this sleeveless Marmellata dress has a pretty floral pattern and is made to hit at the knee.
Polka Dot Bow Waist Dress
Sized for 4- to 8-year-olds, this sateen dress with polka dots and a cute front bow provides a more casual Easter look.
Ruffle-Neck Dress
Oshkosh's new ruffle-neck Easter dress goes all out with a full floral pattern that celebrates spring, and its elastic waist makes it easy for kids to move in.
Cat & Jack Short Sleeve Stripe Dress
This geometrically patterned Easter dress for 4- to 8-year-olds has a classy style and breathable material, and features a small, convenient pocket.
Every product on Fatherly is independently selected by our editors, writers, and experts. If you click a link on our site and buy something, we may earn an affiliate commission.