Last-Minute Easter Toys for Boys and Girls Under $25
Forgot to fill your kid's baskets? Here are some last minute easter toys for kids that cost less than $25.
by Dave Baldwin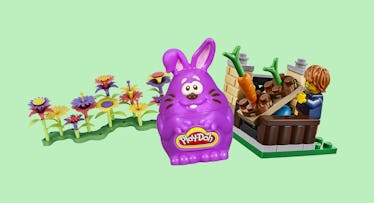 It used to be that Easter baskets were filled with Peeps, jelly beans, and eggs ⏤ maybe there was a stuffed rabbit in the mix. Nowhere was there a wrapped Star Wars figure, Furby, or Hot Wheels car. It was not Christmas morning. The Easter Bunny was in the business of hiding eggs, not making toys.
Well, times have changed. And while it's up to parents to decide how all-in they want to go with Easter presents, we're opting to keep things simple with this list of Easter basket gifts under $25 gifts that actually fit in said basket. Also, as it's only a few days until Easter, all of the Easter basket toys here can be delivered in two days with Amazon Prime.
Pete the Cat: Big Easter Adventure
It makes total sense that if the Easter Bunny needed help decorating and hiding eggs, she'd call on the world's chillest cat. And, of course, Pete is up to the task in this fun holiday book that comes with a poster, 12 Easter cards, and stickers.
Hatchimals CollEGGtibles
The adorable purple hearts on these mini versions of the beloved Hatchimals aren't merely decorative. To incubate each speckled egg, you hold it in your hands and rub the heart until it turns pink. Only then will the creature who lives inside start to crack open their shell and emerge. There are more than 70 glittery-winged creatures in the first series to hatch.
Green Toys Build-a-Bouquet
Get kids excited about Spring, Easter, and/or a career in the floral arts with Green Toys' 44-piece Build-a-Bouquet set. It includes 24 plastic lilies, petunias, and daisies, as well as stems, leaves, and bases in which to arrange them all.
Play-Doh Easter Bunny & Chick Stampers
A fun twist on surprise egg toys, these Play-Doh bunny and chick shells are filled with two ounces of dough and have stampers for feet.
Melissa & Doug Burrow Bunny
Keep things simple (and traditional) with this soft, floppy-eared bunny from Melissa & Doug. It stands 14-inches tall, has soft silky fur, and is 10 percent off for the holiday.
LEGO Holiday Easter Egg Hunt Building Set
After searching for real Easter eggs in the yard, kids can guide their new minifigs through LEGO's holiday hunt. It includes a magnifying glass, Easter basket, and three eggs to hide in the henhouse, mailbox, and vegetable garden, among other secret places.
This article was originally published on