This Two-Sided Cape Lets Your Kids Get as Medieval as They Want
Ready for some 'ye olden times knight action? This costume is the ticket.
by Donna Freydkin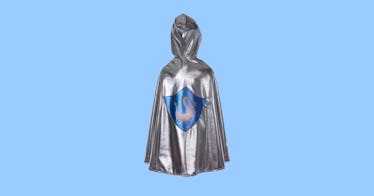 There's a reason that Halloween is to your child what the Super Bowl is to Tom Brady. Forget the candy for a minute. Kids love anything related to dress-up and pretend play. From dinosaur costumes to capes for kids, all can play a critical part in child development.
Which is why we nearly lost our minds when we spotted what could be one of the most gorgeous dress-up knight capes ever. For $25, it's almost too gorgeous to be real. And you get two capes in one. One side of this cape features a silver and blue knight emblem, while the other side has brilliant dragon scales all over it.
So why buy it, you might wonder? Fair question. An article in Pediatrics found that pretend play in particular lets kids experiment with different social roles, and teaches them the art of cooperation: "Dress up, make believe, and imaginary play encourage the use of more sophisticated language to communicate with playmates and develop common rule-bound scenarios."
And in terms of capes in particular, Great Pretenders makes some of the finest ones we've seen.
Kids use markers to color in the cape to their exact design specifications.
It's Game of Thrones, for toddlers. And even more magical.
Every product on Fatherly is independently selected by our editors, writers, and experts. If you click a link on our site and buy something, we may earn an affiliate commission.
This article was originally published on