Doomlands The Judge Is A Beastly Nerf Gun Blaster
The giant barrel drum holds 30 shots.
by Dave Baldwin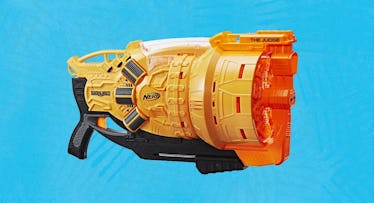 President Trump threatened it, Nerf delivered. After announcing the release of an epic 30-barrel blaster at this year's Toy Fair, the company finally unleashed the fire and the fury. Nerf Doomlands The Judge has hit store shelves, and it's clearly designed to rain down Nerf gun darts in a way the world has never seen.
Doomlands The Judge (…jury, and obviously, executioner) is actually the first of two multi-barreled blasters Nerf's rolling out this year, the other being the 10-dart Mega Twinshock set to release closer to the holidays. Part of the company's post-apocalyptic series, the blaster is a manual slide-action shot gun with a massive 30-dart barrel drum. It looks like something your character would pick up in Halo. Cooler still, the darts are clustered ⏤ and fire ⏤ in sets of threes. Which means 10 shots and a much higher chance of actually hitting your kid when they pop up behind the couch, even if you're not using Nerf's more precise Accustrike darts.
Like most Nerf blasters, the Doomlands The Judge is targeted to kids 8-years-old and older and comes with 30 darts. No batteries required.
This article was originally published on