The DJI Osmo Mobile 3 Is the Ultimate Smartphone Video Upgrade
This thing has to be seen to be believed.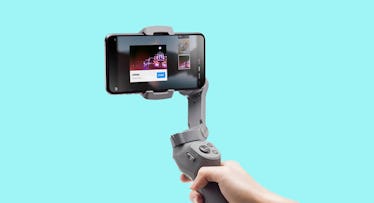 The DJI Osmo Mobile 3 looks like a fancy handle that your smartphone snaps into. Then, you turn it on. This device does nothing short of turning your smartphone into a high-end action camera, the kind that can make your kids' shenanigans look like they're Alex Honnold in Free Solo. Yeah, it is extremely cool.
It's also simple. You mount your phone into the holder, connect the phone by USB cable or via Bluetooth, open the DJI Mimo companion app on your phone and you're ready to go.
The shutter button, conveniently places on the handle, takes photos or starts recording video. Holding it in photo mode gives you a burst. The joystick moves the camera, tilting vertically and panning horizontally, activating the motors built into the Osmo Mobile 3. The zoom slide connects to the phone to seamlessly zoom in and out.
The trigger activates a lock, preventing the gimbal (that's what they call this thing) from following the movements of the handle. A double trigger squeeze recenters it and a triple switches between the rear- and front-facing cameras on your phone. You can use the Osmo Mobile 3 with your phone high, low, or to the side, in both landscape and portrait modes.
And speaking of modes, the DJI Mimo app allows you to utilize a bunch of them. There's Story mode, a great way to shoot video aligned to a proven template, sport mode, which speeds up the gimbal to follow quick action, and options like timelapse and slo-mo which have more to do with how video is recorded on the phone itself. You can also use the Osmi Mobile 3 to capture panoramic pictures.
The coolest mode from a tech perspective is definitely ActiveTrack 3.0. Using it, the gimbal will automatically follow the head and shoulders of a human subject, keeping in the center of the frame as they move around. You can also switch to face mode, which will prioritize keeping the face of the cameraperson in the shot using the front-facing camera, which makes it great for selfie-style video.
As with all of the video this thing helps you capture, it will look smooth and professional instead of shaky and amateurish.
The DJI Osmo Mobile 3 is a must for anyone who takes shooting video on their phone seriously, and its $119 price tag means it's inexpensive enough to appeal to everyone else.
Every product on Fatherly is independently selected by our editors, writers, and experts. If you click a link on our site and buy something, we may earn an affiliate commission.
This article was originally published on