The Best Diaper Subscription Services for Keeping Up With Your Little Poop Machine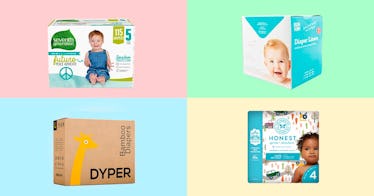 In 1948, Johnson & Johnson introduced the first mass-marketed disposable diaper, and in 1961, Pampers exploded onto the marketplace. Since then, disposables have cornered the diaper market, and for most new parents, they're the most convenient (if not the most earth-friendly) option. Babies require a ton of diapers. Newborns can go through up to 12 diapers every 24 hours, which means you can run out of clean diapers very easily — a rookie parent move you don't want to make. That's where diaper subscription services save the day. You choose the size of the diaper and the frequency of delivery, and, diaper subscription services ensure it's one less thing to worry about.
Every product on Fatherly is independently selected by our editors, writers, and experts. If you click a link on our site and buy something, we may earn an affiliate commission.
This article was originally published on