The Best Cheap Yet Expensive-Looking Diaper Bags for Dads
by Thelma Adams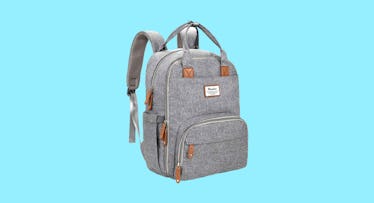 dEvery new parent needs a diaper bag, ideally an affordable diaper bag. Raising kids isn't cheap. In fact, the estimated cost of raising a child from birth through age 17 is $233,610, per the Department of Agriculture. So call us crazy, but spending a fortune on a diaper bag, something you'll use for about two years, doesn't make much sense if you're not rolling in it.
Think of all the luxuries you'd splurge on: a trip to the Amalfi Coast for your anniversary, or a pool table, or tickets to a playoff game? And, now, consider diaper bags: that is a place to tighten your budget and still get baby bang for your buck.
You want a bag that fits everything you need, is easy to clean, has enough space for your diapers and wipes and tech gear, and includes a changing mat so you can handle diaper blowouts on the go.
Whether you want a baby backpack with all the pockets for toys and gadgets, or a subtle city tote that doesn't scream dirty diapers inside, there are reasonable options that will help you save money for the big-ticket items that really matter. Like your kids' 529 college fund.
Pros: The #1 bestseller on Amazon gets a lot of love from consumers for its roomy interior, gender neutral and dad friendly styling, and its thick, durable fabric construction. It's big enough to hold a changing mat, has 16 pockets, and insulated pockets for baby bottles.
Cons: A minority of consumers complain of broken zippers and rips.
Pros: With all those pieces, there's a place for everything you can think of – and plenty of Goldfish crackers. It comes in a handsome sporty stripe and three other patterns. It has tons of convenient pockets, is water resistant – and some people even skip the diapers and rash cream and use it as a tote.
Cons: The straps can really weigh a shoulder down and limit mobility if you're not just throwing it in the back of the car on the way to the grandparents'.
Pros: It's waterproof! It comes in 17 colors including shades that would please a sober banker. And it's ready to take everywhere with a roomy interior, lightweight fabric and highly-functional pockets,
Cons: The stitching and finishes aren't equal to the higher-price point bags.
Pros: A great price for a great brand, this JuJuBe Ballad backpack is everything you need in a diaper bag. It's basic black, with a ton of pockets, includes a changing mat, and has a detachable/adjustable messenger strap.
Cons: It's polyester, which may not be to your liking.
Pros: The Skip Hop messenger diaper bag has 11 pockets, plus two side pockets for bottles. It fits tablets and laptops, and has an easy-t0hold top handle. It also includes a cushioned changing pad.
Cons: There is no zipper on the main pocket, which means things tend to fall out.
Pros: This is the diaper back for the dad on the go. The main compartment includes multiple organizer pockets, a pacifier pocket, and the secondary compartment features a padded, elasticized tablet/accessory pocket and a portable, padded change mat.
Cons: It's smaller in size, so if you have multiple kids, or like to tote around your entire nursery, this one isn't for you.
Pros: The HapTim backpack has 17 pockets, a 3D breathable padded back, plus a changing pad, stroller straps, and three insulated pockets. It's also water-repellent
Cons: It can easily tip over.
Pros: Roomy without being bulky, this diaper bag is a great all-purpose solution for those of us on a budget.
Cons: There are reports of the seams coming apart.
Every product on Fatherly is independently selected by our editors, writers, and experts. If you click a link on our site and buy something, we may earn an affiliate commission.
This article was originally published on