Toddler Monitor Tells You When Your Kid Tries To Leave Their Bedroom
It sends an alert right to your phone.
by Dave Baldwin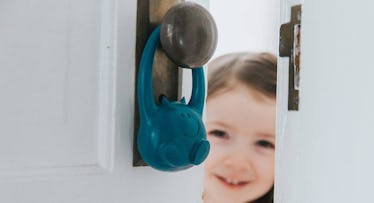 When it comes to keeping tabs on your kid, there are plenty of baby monitors out there. Video, audio, wearable ⏤ you name it, they've got it. But what happens when that contained little newborn baby sprouts walking legs and hits the bricks with the unquenchable curiosity of a popular cartoon monkey? Short of slapping a house-arrest bracelet on their ankle (they don't make 'em that small), you can never tell if they're heading to Mexico to find Andy Dufresne. Unless you have the Decco Toddler Monitor, that is.
The Decco Toddler Monitor is a Bluetooth-enabled motion sensor that hangs on the doorknob to your child's room. When it senses the door open, it sends an alert to the iPhone app (no Android app yet, unfortunately). Simple as that, you know your kid is on the run and headed for the sewer pipe. Decco Toddler Monitor's smartphone app can monitor up to three devices (from three different phones), so you can also throw one on the front and back doors depending on your child's age and/or level of precociousness. Or maybe just on the fridge if they like to enjoy a late-night juice box while watching Conan.
In terms of specs, the Decco Toddler Monitor fits all types of doorknobs, uses a coin-cell battery so there's no recharging, and reportedly covers a 3,000 square foot home. Also, it looks like a little-horned monster — cute is always good. In order to get one of those cute $65 monsters, there's a countdown clock on their website, currently set for the beginning of May. Just sign-up online and they'll let you know how to order. Until then, though, it's probably best not to let your little one watch anymore Shawshank.
(Pre-order for May 2017)