Deal: Walmart Has a Crazy Sale on Beats Studio3 Wireless Headphones Today
Beats' noise-cancelling, over-ear headphones are marked down nearly $150.
by Fatherly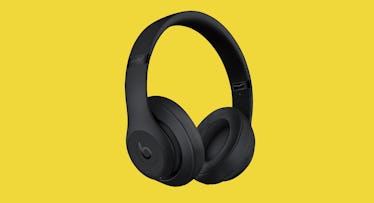 In terms of marketing? Few companies do it better than Beats. But their headphones, particularly their higher-end models, leave a lot to be desired sound-wise, and are not worth the price tag. That said, Walmart is selling the Beats Studio3 Wireless Over Ear, which came out last year, at nearly $150 off. At this price point, the headphones are certainly something to consider.
The biggest reason for Beat's sound-quality issue is their artificially enhanced bass, which has a tendency to not only distort songs but also drown out the mids and highs. Sure, this is something you can ignore if you're not that particular about sound and looking for a pair of knock-around workout headphones to blast bass-heavy running jams (although there are better workout headphones out there). It really causes a problem if you're shelling out for one of their $300+ models. When paying that much, it's not right to settle.
Now, that said, the Beats Studio3 Wireless Over Ear, are a big step in the right direction. The over-ear headphones are comfortable, fold small, and, thanks to Apple's wireless W1 chip, quickly connect to iOS devices. For Android devices, the headphones connect via the perfectly acceptable class 1 Bluetooth.
Sonically, the headphones are bass heavy and a bit soggy in places — but they sound better than most Beats. But, as the durably constructed headphones are noise-cancelling, thatl sort of negates that type of criticism. The headphones' coverage and active noise-cancelling combine to create a surprisingly great cocoon of silence; not to mention they have an excellent battery life of up to 22 hours with active noise cancelling switched on and 44 hours without it. Priced normally, the Studio3 Wireless wouldn't be worth it. But, as they're $205 instead of the standard $350, there's a lot of boom for your buck.
Every product on Fatherly is independently selected by our editors, writers, and experts. If you click a link on our site and buy something, we may earn an affiliate commission.
This article was originally published on