Deal: Otterbox's Ultra-Rugged Coolers Are 25 Percent Off Today
Looking for a new cooler? You can score 25 percent off a variety of excellent high-end hard and soft-sided models from Otterbox.
by Fatherly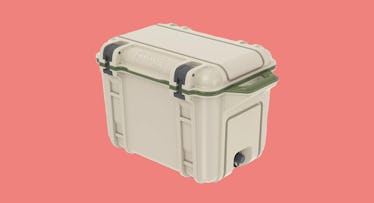 In the last few years or so, coolers became, well, pretty cool. What were once the simply designed beer-and-sandwich carriers we mindlessly grabbed at the big box store before heading to the beach, suddenly became objects of desire. Everywhere it seemed were high-end carriers. Some were soft-sided; others hard. All of them came from companies inspired by ultra-insulated hunting and hardcore outdoor models and boasted the ability to keep contents cold for eight days and even prevent bears from breaking into them. They also had price tags in the hundreds of dollars. Are such coolers necessities for the average beach-going or picnicking family? No. But they're pretty damn cool and will last for decades.
Well, if you're interested, today's a good day to buy one. Outdoor lifestyle shop Huckberry has 25 percent off a variety of high-end hard and soft-sided coolers from Otterbox. Best known for their near-indestructible protective cases that are fully waterproof and make every phone seem as though it's wearing an exo-skeleton, Otterbox got into the high-end cooler game last year. Their hard-shelled coolers fall into the Venture Series. They come in 25-, 45- and 65-quart size and are not only insulated enough to keep ice frozen for up to two weeks (two weeks!) but, per the company pedigree, are drop-tested as well as water- and dust-proof, meaning they're more than tough enough to survive falls off a pickup bed or splashes from an oncoming wake.
Otterbox's soft-sided coolers, which fall into the company's Trooper Series, are not as tough but a bit more manageable. Made from plastic and Nylon, the zippered, handled coolers boast a 30-quart capacity, keep ice frozen up to three days, and are abrasion resistant. The each have a pair of exterior waterproof pockets and, with a slight bit of tweaking, can be carried as a shoulder-bag or backpack.
Every product on Fatherly is independently selected by our editors, writers, and experts. If you click a link on our site and buy something, we may earn an affiliate commission.