This Amazon One-Day Sale on Duffle Bags Is Worth Your Time
Schlep in style with these heavily discounted, premium bags.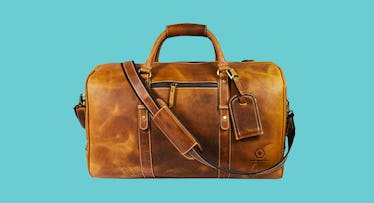 Chance are, you already own at least one duffle bag. You might have a ratty version you take to and from the gym or something a little less stinky that you take on weekend trips. What you probably don't have is an upscale version, a great-looking bag made of premium materials. If that's true, you owe it to yourself to check out the Aaron Leather duffles, in both leather and waxed cotton canvas, that are up to 65% off today at Amazon.
Our leather pick is this 20-inch version that fits snugly under most airline seats. It comes with a leather luggage tag and a quick-access pocket on the outside. Inside, the main compartment has with two smaller zippered pockets, a phone holder, pen holders, and slots for cards. Metal studs on the bottom keep the leather off the ground. You can tote the whole thing around with the leather handles (that can be bound together) or the leather strap that comes with a shoulder pad. It's available today for more than a hundred bucks less than usual.
If' you're more of a waxed canvas fan, there's a great bag for you too. It's also 20 inches long, albeit with a rounder profile, and comes with a pocket on each end that makes it easy to store and access smaller items. The flaps on top of these pockets, the straps, and the handles are all genuine leather, which gives this bag a more refined look. Inside you'll find a couple of smaller pockets and a zippered compartment, in addition to standard spots for pens and cards. You can grab this bag for 65% less than its normal price.
This article was originally published on