Deal Alert: Crayola Is Having A Massive Easter Sale on Amazon Right Now
Time to get your cray (and marker and art set) on.
by Dave Baldwin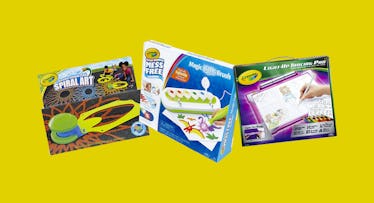 You can never have enough crayons, markers, and paints on hand ⏤ especially with Easter approaching. Not only are their eggs to decorate and holiday pictures to color, but leave the caps off even for just a night and those markers are done. So when Crayola has a big one-day sale ⏤ slashing prices on everything from finger paints and sidewalk chalk to spiral art kits and their popular Light-up Tracing Pad ⏤ parents are wise to act fast. Today is one of those days.
Not only are they taking big savings off basics like a 40-count box of broad washable markers ($9), 480 sheets of construction paper ($8,) and signature colored pencils ($13, down from $34), but also on Disney/Paw Patrol Mess Free Coloring Kits ($10), Pip-Squeaks Travel sets ($20), and even pastels for older artists ($8). Also, there's a giant gift Easter Egg with Silly Putty eggs inside for $15.
The biggest deals, however, are on the full-fledged coloring toys ⏤ like art desks and stamp sets ⏤ which make great gifts. Here are three worth highlighting:
Light-up Tracing Pad
On sale for only $14, this super thin, battery-powered light-up pad comes with 13 pencils and 100 traceable images.
Color Wonder Magic Light Brush
The beauty of the Color Wonder series is that the paints don't leave a mark on anything but the special paper. And in this case, the magic brush lights up with whatever color paint it's dipped in.
Sidewalk Chalk Spiral Art Kit
This spiral orbiter takes sidewalk chalk design to the next level by holding stackable stencils that kids can trace with ordinary chalk.
This article was originally published on