Deal: Breville's Super-Brainy Countertop Oven Is On Sale At Amazon Today
Sure, it can toast and broil. But the Compact Smart Oven can also roast and reheat like a standard convection oven.
by Fatherly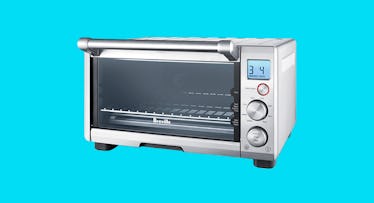 Toaster ovens are the beating heart of hectic family kitchens. Want some toast? A Pop Tart? They can brown your bread or heat your pastry better than any standard two-slice. Want a pizza bagel or a grilled cheese? Assemble, center it in the rack, and broil away. All toaster ovens are versatile and very handy. But the Breville Compact Smart Oven, which Amazon has on sale today for more than $50 off, kicks the genre up a notch. More or less the offspring of a toaster oven and convection oven, it can not only toast and broil but also bake like a standard range, serving as a secondary place to cook everything from mac and cheese to main course roasts.
The Breville Compact Smart Oven, which sits 17 inches wide and 10 inches high, is about the size of a standard toaster oven. But thanks to an 1800 watt heating element and some design wizardry it can do much more than broil and toast. In fact, it has eight different functions. There's the standard pre-set Toast, Bagel, and Broil settings. But there are also Bake, Roast, Reheat, Cookies, and Pizza settings. The backlit digital LCD screen not only makes it easy to see your settings but also calculates the time your food needs to be cooked. And the .6 cubic foot interior can comfortably fit four pieces of bread or a 12-inch pizza.
Normally priced at $180 the Compact Smart Oven is one sale for $129, a savings of more than $50. If you need a secondary space to make up for a small stove or just want to upgrade to a better snack maker, now's a great time. That sound you hear is your standard too slice shaking on the counter.
Every product on Fatherly is independently selected by our editors, writers, and experts. If you click a link on our site and buy something, we may earn an affiliate commission.
This article was originally published on