Deal: Best Buy Is Having a Big Sale Today On These Awesome Off-Road R/C Toys
If you want an r/c truck, now's the time to buy.
by Fatherly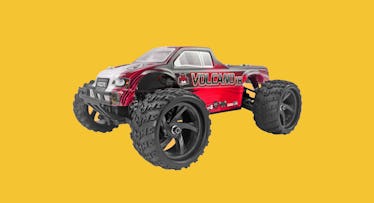 Time to get some dirt on the tires. Best Buy is having a pretty solid deal on a trio of rad R/C vehicles today. Far from the radio-controlled cars we had as a kid which would last for but a few minutes and lose a bumper if we looked at it wrong, these vehicles are rock-hopping monsters with legit suspension systems and long battery lives that allow for hours of dust-spewing fun. The two off-road trucks and one stunt-ready motorcycle Best Buy is offloading should allow for some good backyard fun — and are on sale for as much as $100 off. The deal is tempting enough that we might buy two so we can race the kids in a battle for backyard supremacy. Here are some details.
Redcat Racing Cyclone XB10
This sleek off-road racer, a 1/10th scale model, has rear-wheel drive, a fully adjustable suspension, and shocks that help it rumble over rocks, twigs, and man-made ramps. With a top speed of 22mph, it can really zip around. The Cyclone received a 9.7 out of 10 by the folks at R/C insider, who gush about its handling and speed; it also boasts 5 star user reviews at most other sites. Normally $190, it's on sale today for $100.
Redcat Volcano 18 Monster Truck
Another Redcat creation, this 1/18th scale model monster truck has massive, grippy tires that allow it to treat rocks like racetrack and is fully waterproof, so it can splash through puddles and mud-pockets. Despite its complex parts, the Volcano is, per reviewers, simple to control. It's on sale today for $64.
Hot Wheels Ballistik Racer
The Ballistik racer is what might happen if the Dark Knight Batcycle was shrunk down and dipped in fluorescent paint. Created for, it boasts hex-molded wheels and a slate of pre-programmed stunts: press a certain sequence on the controller and the vehicle performs 180 spins or quick pivot turns. It usually runs for $100 but is on sale for $40
Every product on Fatherly is independently selected by our editors, writers, and experts. If you click a link on our site and buy something, we may earn an affiliate commission.
This article was originally published on