Deal Alert: Amazon's Having a Big Sale on Sleeping Bags And Hammocks
Just in time for camping season, Amazon has a big sale on some great outdoor gear from Klymit.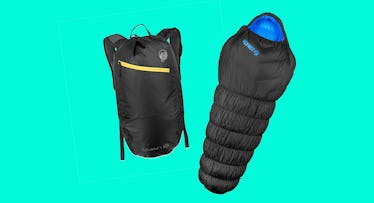 Buy early in the season, or buy late — that's the key to saving cash on outdoor gear. Rarely does one score huge deals on camping equipment when everybody is actually, well, camping. April, thankfully, still counts as early for most of the country. So while you may have missed last week's big Marmot Amazon sale on tents, sleeping bags, and rain gear, you're still in luck. Today it's Klymit's turn, and purveyor of crazy light sleeping bags, pads, and hammocks is knocking up to 40-percent-off a lot of essential gear, including some of their just-released 2018 models. Here's a quick rundown on the best deals.
KSB 20 Degree Down Sleeping Bag
It's unlikely you'll need a 20-degree mummy bag in the heat of summer, but when you can score a high-end 3lb sleeping bag for almost $95 off, you pounce. And then plan a July hiking trip to a much higher elevation.
Klymit Traverse Double Hammock with Tree Straps
New for 2018, Klymit's Traverse Double Hammock is made of 70D ripstop nylon, can hold up to 400lbs, and sets up in a snap thanks to two 11-foot tree straps.
Klymit Static V Luxe Sleeping Pad
Marked down over $30, the 76- by 30-inch Static V Luxe pad is three-inches thick, weighs only 27 ounces, and boasts integrated side rails to keep you from sliding off in the middle of the night.
Klymit Stash 18 Air Frame Day Pack
Thanks to an innovative air frame with built-in pump, this 18L backpack weighs in at a mere 12.38 ounces. It also comes in black or yellow and is currently 28-percent off.