Deal Alert: Amazon Is Knocking $30 Off The Kids' Kindle Tablets Today Only
Best part: If it breaks anytime in the next two years, they'll replace it for free.
by Dave Baldwin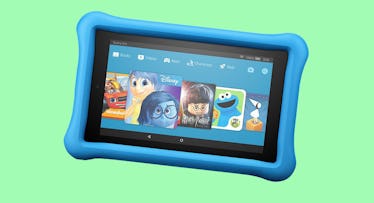 While plenty of parents are comfortable with their kids using tablets, far fewer get excited about actually handing over an $800 iPad to a five-year-old. It's an understandable concern and big reason folks are happy to drop a little cash on a device specifically for the kids. It's also why the children's version of the Kindle Fire is so appealing, because Amazon guarantees it for up to two years. If it breaks (and, of course, it will), they'll replace it free of charge. Normally, $100-$130 (depending on the screen size and amount of memory), Amazon's taking 30 percent off today and selling them for as little as $70, rugged kid-proof case included.
In addition to the guarantee and case (in blue, pink, or yellow), the 7-inch Kindle Fire 7 Kids includes 16 GB of internal storage, and 8-hour battery life, and a year's subscription to FreeTime Unlimited, which offers access to "15,000 popular apps and games, videos, books, and educational content from PBS Kids, Nickelodeon, Disney, and more." The content is all targeted toward kids ages 3- to 12-years-old and, as a failsafe, the tablet also uses a kid-safe browser developed by Common Sense Media to help curate content. Even better: there's a parental dashboard and controls to limit use and screen time.
For $20 more, the Fire HD 8 Kids Edition Tablet includes an HD 8-inch screen, 32GB of storage, and 12-hours of battery.