This Go-Kart Can Hit 60 mph in Less Than Two Seconds
It's basically the Bugatti Veyron of go-karting.
by Dave Baldwin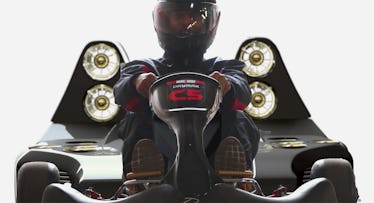 Once upon a time, kids go-karts were made out of plywood and powered by a lawnmower engine. They cost a couple of hundred bucks and were lucky to hit 30 mph, tops. Those days are gone. And to prove it, the Daymak Blast C5 Ultimate: an all-electric go-kart that's more supercar that simple rider. It goes from 0 to 60mph in 1.5 seconds and costs more than the average annual income.
Designed by a Canadian company that makes electric motorcycles, the 220-pound Blast C5 Ultimate is propelled mostly by a liquid-cooled 48-volt/10,000-watt brushless DC motor. Mostly. Because the Blast C5 Ultimate is also tricked out with 12 Electric Ducted Fan (EDF) motors ⏤ four behind the driver and eight built-into the body ⏤ that provide an extra 440-pounds of thrust. Those kids at the go-kart track have no idea what's about to hit them.
The kart rocks 10/11-inch tubeless tires, rear hydraulic disc brakes, and 2,400 watts worth of combined lithium batteries. Although how long they run or take to charge is not clear. There will be two models of the Blast C5 Ultimate, with wildly disparate prices. The Blast C5 Ultimate, which will hit 60 mph in 1.5 seconds, will run a cool $60,000. (Not a misprint). Take off all those fans though, and you can drive the Standard model for a mere 10. The only catch is that it'll take you a whole 3.9 seconds to reach top speed (sigh).
Obviously, the market for go-karts that are faster (and cost more) than the world's top luxury sports cars is limited, but that's not stopping Daymark from pressing forward. They're currently taking orders for custom-built go-karts (which take roughly 60 days) on their website.
This article was originally published on