The Dangerous Toy and Baby Product Recalls That Happened in January
For one product, the Consumer Product Safety Commission recommends parents "disassemble and throw it away."
by Dave Baldwin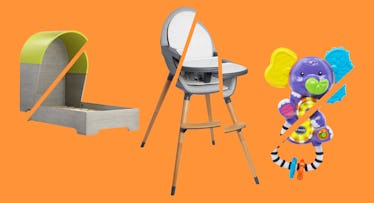 On average, more than 100 kids toys and baby products are recalled each year due to defect. And even though most recalls are voluntary, companies are rarely inclined to shout their foibles from the mountaintop. As a result, few parents ever hear about them. In fact, only 30 percent of recalled products ever make their way back to the manufacturer. Instead, they are handed down to other new parents, find their way into consignment shops, or end up on Goodwill shelves where they can potentially harm other children.
RELATED: The Dangerous Toy and Baby Product Recalls That Happened in August
Fortunately, there are multiple government agencies ⏤ most importantly the U.S. Consumer Product Safety Commission, which has jurisdiction over more than 15,000 kinds of consumer products ⏤ and watchdog groups like KidsinDanger.org and Safe Kids Worldwide who keep tabs on it all. In fact, six federal agencies have joined together to create Recalls.gov, an online hub where they "alert the American people to unsafe, hazardous or defective products."
ALSO: The Most Dangerous Toys and Baby Products Recalled in February
We also like to keep you updated on the latest defective toys, baby and parenting gear, and kid products, so that you don't have to take time out of your day to scour government websites. We include the product, the defect, and the course of action you should take if you own the product. Although in all cases, the first action is always to get the dangerous toy away from your child. That said, here are all of last month's recalls.
Note: If you have a problem with a dangerous product or a product-related injury, you should report it to SaferProducts.gov or call CPSC's Hotline at 800-638-2772.
VTech Lights & Lullabies Travel Mobiles
Hazard: Clamp can break causing mobile to fall
Number Recalled: 41,800Action to Take: Contact for refund or replacementContact: vtechkids.com/recall, 800-521-2010 Only six of these musical mobiles from VTech have broken so far but over 40,000 are affected. And if they snap, obviously, they're falling onto the baby. They were sold in pink and blue (model numbers 80-503000 and 80-503050) from February 2017 through November 2017 and feature three hanging stars. Customers can contact VTech for a full refund or replacement product. Full Recall Details
Skip Hop Tuo Convertible High Chairs
Hazard: The front legs can detach posing a fall hazard
Number Recalled: 11,900Action to Take: Contact to replaceContact: skiphop.com , 888-282-4674 Skip Hop's Tuo convertible high chair came out last year and has an issue with the front legs, namely, they can fall off. It's happened on 13 chairs and two kids have been bruised as a result. The style numbers are 304200 and 304200CN and affected chairs were sold between December 2016 and September 2017. Full Recall Details
Land of Nod Nook Toddler Beds
Hazard: Headboard can detach posing an entrapment hazard
Number Recalled: 75Action to Take: Contact for refundContact: landofnod.com, 800-933-9904 The problem with Land of Nod's $500 Nook toddler bed is that the headboard can disconnect from the frame and collapse onto the bed, and presumably, onto the child sleeping in it. Fortunately, the recall only affects 75 beds, but there have already been four reported incidents. The beds were sold exclusively at LON stores or online between May 2015 through September 2017 and customers are eligible for a full refund. Full Recall Details
VTech Shake & Sing Elephant Rattles
Hazard: The ears can break off posing a choking hazard
Number Recalled: 280,000Action to Take: Contact for refundContact: vtechkids.com/recall, 800-521-2010 The biggest recall last month in terms of numbers, 280,000 of these rattles can cause a choking hazard if the elephants ears break off ⏤ which they do. There have been five reported incidents, no injuries, and the model number in question is 80-184800.Full Recall Details
Multipro Baby Cradle N Swings
Hazard: Doesn't meet federal safety standards; poses fall and entrapment hazards
Number Recalled: 1,000Action to Take: Contact for refundContact: amazon.com, 888-280-4331 Despite the fact that they "fail to meet the mandatory federal safety standard for bassinets and cradles," these Indian-style cradle swings were sold exclusively on Amazon.com between January 2014 through July 2017. And while the CPSC usually recommends that parents stop using the product immediately, in this case it goes even further and suggests they "disassemble and throw it away." Reportedly, Amazon has already contacted all buyers and issued gift cards, but customers who didn't receive notice can still request one. Full Recall Details
This article was originally published on