7 Best Cyber Monday Deals You Can't Pass Up
Wirecutter looked at 10,250 listings to find these seven can't miss deals on strollers, smart speakers, and more.
by Wirecutter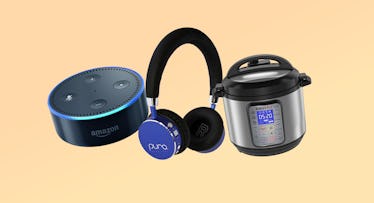 This post was done in partnership with Wirecutter, reviews for the real world. When readers choose to buy Wirecutter's independently chosen editorial picks, they may earn affiliate commissions that support their work. Read their continuously updated list of deals here.
Since we started seeing Cyber Monday deals go live on Sunday morning, we've posted 81 deals and scanned around 10,250 listings. We keep our deal scanning standards strict by putting our trust in our editorial department — we're only posting deals on products they've vetted and recommended in our guides. No matter how good a deal may look, if it's on a bad product, you might be throwing your money directly into the trash.
Street Price: $50; Deal Price: $30
Best Cyber Monday price we've seen on the Amazon Echo Dot, $5 below previous sales.
The Amazon Echo Dot is the also great pick in our Alexa guide. We wrote, "In this smaller package, the Dot gives you all the Alexa control and search features, and it includes a speaker that's good for hearing the Dot's voice and alarms or listening to talk radio."
Street Price: $110; Deal Price: $35
A Cyber Monday price that matches the low on these workout earbuds, usually around $60.
These are the top pick in our wired workout headphone guide. We wrote, "Available in either Android or Apple three-button remote/mic configurations, this Sennheiser model is designed to be sweat-proof, and like many workout headphones we looked at, also features "antimicrobial" ear tips, so even if your workout gets nasty, your headphones shouldn't. The OCX 686G Sports survived all the tests to which we subjected our previous pick and fared just as well."
Street Price: $100; Deal Price: $80
Down to $80 for Cyber Monday, $20 off, with code Puro20.
These are the top pick in our kids headphones guide. We wrote, "The Puro BT2200 is our pick because not only do these headphones remain within safe listening levels when used properly, but they were also the top pick of all our kid panelists, which means your little ones will be more likely to use them."
Street Price: $120; Deal Price: $75
The Instant Pot Duo is the top pick in our pressure cooker guide, the Duo Plus is an updated model with more features. We wrote, "The Duo Plus has the same cooking capacity and functionality as our main pick, the IP-DUO60, but with a few new bells and whistles. For starters, the digital display uses icons that inform you about what's happening inside the pot. The Duo Plus also allows you to change the pressure level and cooking time while the machine is in use (the IP-DUO60 requires you to cancel the cooking program to make changes). In addition, the keep-warm function on the Duo Plus goes up to 24 hours, as opposed to the IP-DUO60's 10 hours."
Street Price: $140; Deal Price: $109
A new Cyber Monday low on our runner-up umbrella stroller pick in black.
This is the upgrade pick in our umbrella stroller guide. We wrote, "The Joovy Groove Ultralight reclines into multiple positions for comfortable napping—including full recline. It can stand upright when folded, which is a huge convenience for storage and regular use."
Street Price: $100; Deal Price: $70
A new low for Cyber Monday on this rugged versatile keyboard case pick.
The Zagg Rugged Case is an also great pick in our iPad Pro keyboard case guide. We wrote, "It isn't for everyone, but it's a great choice if you need to keep your iPad Pro safe in rough environments (or even just in the hands of your kids). And the Rugged Messenger's unique design may even win over a few people who don't think they need that kind of protection."
Street Price: $600; Deal Price: $480
A $120 drop on our top kayak for beginners for Cyber Monday. Free shipping or in-store pickup available.
This is our top pick in our beginner kayak guide. We wrote, "The West Marine Pompano 120 ultimately won because of its relatively extensive list of features for such a modestly priced vessel, and perhaps most importantly because of the sturdiness of its hull."
Because great deals happen more than once a week, sign up for our daily deals email and we'll send you the best deals we find every weekday.
Note from Wirecutter: When readers choose to buy our independently chosen editorial picks, we may earn affiliate commissions that support our work.
This article was originally published on