Cyber Monday Deal: Lego's Apollo Saturn V Rocket Is Only $79 Today
The set, which stands three-feet tall, is one of our favorite Lego builds.
by Fatherly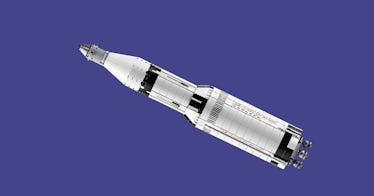 Cyber Monday is here and with it comes a lot of great discounts on electronics. But there are quite a few deals on toys, too. One of the best we've seen comes from Lego: the brand is selling their excellent Lego Ideas NASA Apollo Saturn V 21309 Building Kit for just $79, a savings of $41 —the best discount we've ever seen on the 1,969-piece set.
Based on the first rocket to put astronauts on the moon, the Saturn V set, when fully built, stands more than three feet tall. Like the rocket it's based on, it comes in three sections ⏤ one for each rocket stage of the mission ⏤ and can be displayed either horizontally or standing ready to launch in the middle of the living room. The Eagle Lunar Lander and command service module are both built into the rocket. And because what rocket is complete without a crew, the set also comes three mini fig astronauts that can take one small step for lego and one giant step for toykind. All told, the set weighs in at seven pounds.
If you're searching for a great Lego set to give your kids this holiday season, or simply want to recreate the rocket yourself, this epic build is an excellent purchase.
This article was originally published on