Cyber Monday: This Excellent Portable Projector Is $100 Off Today
The size of a beer can, it casts a picture up to 100 inches wide.
by Fatherly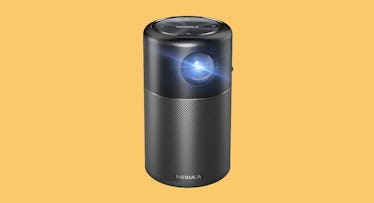 Cyber Monday is undoubtedly a great day to score a discounted television. But if you'd rather make your family viewing experience a bit more portable or simply take movie night to the next level, it's also an excellent time to pick up a new projector. In fact, one of our favorite models, the Anker Nebula Capsule portable projector, is on sale today for more than $100 less.
Roughly the size of a beer can, the Nebula connects to devices via both Bluetooth and Wi-fi so it works pretty much anywhere. Its interface is simple to use, it can mirror screens of iOS or Android devices, and also runs Android 7.1 on its own. That means it can stream pretty much anything from a monthly service to a movie downloaded on your tablet. It lasts four hours per charge and, best of all, can cast picture up to 100 inches wide. The picture isn't true HD, but we found it to be clear regardless.
No, the Nebula isn't a true television replacement. But it's a great way to cast movies on a sheet for, say, a neighborhood summer film night, a showing of Frozen inside the pillow fort your kids created, or anywhere else (get creative). It's versatile and it's very, very fun.