Curious Elixirs Are Nonalcoholic Libations Inspired By Your Favorite Cocktails
Those 9 months are gonna fly right by.
by Dave Baldwin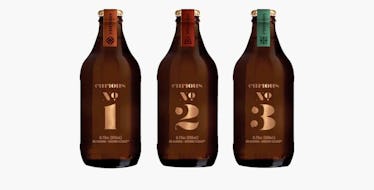 Like any good husband, you want to support your wife during her pregnancy — it's a long nine months of sacrifice. But the thought of giving up boozy cocktails in solidarity sounds like a terrible idea. (Because it is.) Which is why you should be supportive in another way, by stocking the fridge with Curious Elixirs' tasty organic mocktails.
Pitched with the clever tagline "shaken not slurred," Curious Elixirs are herbal-based, non-alcoholic libations inspired by popular craft cocktails. Think hibiscus Dark & Stormies or "dry 5-spice citrus concoctions." They're the brainchild of a Brooklyn-based bartender (quelle surprise!), are blended in small batches, and come ready-to-drink in 12-ounce brown glass bottles — no additional ingredients or mixing required. In addition to being booze-free, these "soft 'tails" contain no sugar, gluten, dairy, nuts, or GMOs. Just a smooth blend of herbs, roots, botanicals, and cold-pressed juices to lift your spirits and briefly make the idea of hitting the clubs actually sound like fun again.
While there will eventually be three varieties, only one is currently for sale. And, for some reason, Curious Elixirs is being very coy about the flavor: It's simply described as "complex, smooth, dry, bitter. And of the herbaceous persuasion." Ummmm… delicious. Maybe? Either way, you can buy them by the 8-pack or the case, although they also offer a subscription plan where a crate of cocktails will automatically show up on your doorstep every month. At $5 a pop, they're not cheap, but can you really put a price on drinking a stink eye-free beer when you get home from work?
This article was originally published on