Cuisinart's Genius Rice Cooker and Steamer Gets Dinner Ready in Minutes
It's foolproof and idiot-proof.
by Donna Freydkin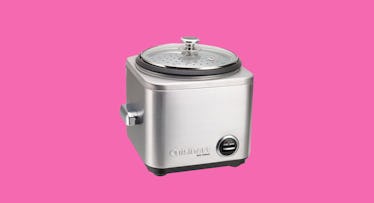 The rice cooker and food steamer in one is the kind of culinary marriage I can get behind, because it gives me endless dinner ideas. The Cuisinart rice cooker has made dinner prep so, so, so easy and the rice cooker steamer lets me play with healthy dinner recipes.
I'm a sucker for fancy-looking kitchen gadgets that are shiny and pretty and by and large, worthless. Meaning, mostly overpriced garbage that I'll use once, if at all, and then forget I even own. The exception here is my pasta maker, my culinary true love. And in second place is my Cuisinart rice cooker slash food steamer (known as the Cuisinart CRC-400 Rice Cooker 4-Cup Silver if you're nasty). It's a creation so stupidly brilliant, I can't figure out why no one else thought of it sooner.
Cuisinart Rice Cooker and Steamer
You dump dry rice (it has a four cup capacity) into the rice cooker and add chicken broth or water, and press a lever that starts the cooking process. Then, you add the steamer basket to the top of the rice cooker, and the steam released from cooking the rice steams your food. And by food, I mean salmon and chicken and carrots and broccoli and asparagus and whatever the hell else you can get your kids to eat. You get a complete meal, using one gadget, in roughly 20 minutes.
Yes, there are many, many different rice cookers and steamers. They're a staple in a lot of homes. And a lot of them have glistening surfaces and even clay inserts. But I love Cuisnart's cooker because it's affordable and, most importantly, foolproof. It's so easy to use, it's almost mind-boggling. I don't even use measuring cups anymore because I've literally never been able to screw this up. And let it be known that I am clinically incapable of following recipes.
Why It's The Best Small Rice Cooker
This rice cooker is no Maserati. It won't make porridge or risotto. It's not some glorious work of art that looks gorgeous on your counter. Let's be clear. It makes rice. Period. But it does so with panache and ease. It steams vegetables, just as easily. As working parents with hungry kids clamoring for food, this two-for-one gadget is my go-to for getting dinner ready in minutes. Bon appetit.
Every product on Fatherly is independently selected by our editors, writers, and experts. If you click a link on our site and buy something, we may earn an affiliate commission.
This article was originally published on