Cuddle Clones Are Stuffed-Animal Versions of Your Family Pets
The best part? They don't have to be dead.
by Dave Baldwin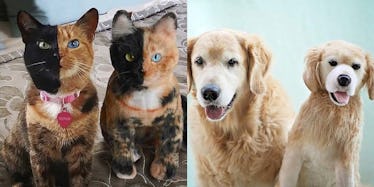 To say that kids get attached to their pets is an obvious understatement. Drop Fido off at the kennel, and it may as well be the end of days. But what if they could drag their favorite pet ⏤ be it a dog, a horse, a white-crested, smooth-haired guinea pig ⏤ everywhere they went? Well, thanks to Cuddle Clones, they can. Cuddle Clones are plush stuffed animals made to look just like real-life pets. And the best part? There's no taxidermy involved.
Admittedly, these stuffed animal versions of your favorite pet aren't cheap. Cuddle Clones pricing depends on the size/type of animal: $249 for larger pets (like dogs, cats, monkeys, pigs, and reptiles) and $179 for your smaller ferrets, chinchillas, and rabbits. To order, simply enter the animal's breed, weight, and eye color, and upload up to eight pictures taken from a variety of angles. Obviously, the more detailed the pics, the better.
From there, be prepared to make some tough choices: Do you want the stuffed version standing, sitting, or lying? Left ear up or floppy? How about the right? Yeah, Cuddle Clones lets you choose both. You can also pick whether the mouth is open, closed, or the tongue is in or out. What about the tail? Up, down, or cropped ⏤ you make the call. And does your animal have any distinguishing characteristics? If so, tell them! These are clearly replica pets made your way.
Not only that, but for a little extra cash, Cuddle Clones will also turn Fido into a figurine ($80), a handsome pair of slippers ($200), or a nice set of golf club headcovers ($200). Or, if you're still looking for a Mother's Day gift, they'll turn the cat into a necklace or pair of earrings.
As there's no rushing perfection, the intricately detailed, handmade stuffed animal, they take some time to make. Seven weeks, in fact. Cuddle Clones offers rush delivery, however, and for an extra $150 you can have it in two weeks. Or just in time for your tear-free kid to clutch it as you pull away from the kennel.
This article was originally published on