These Guys Turned a Little Tikes Cozy Coupe Into a Flying Machine
No, it can't carry a human. But it can make it off the ground.
by Ben Marx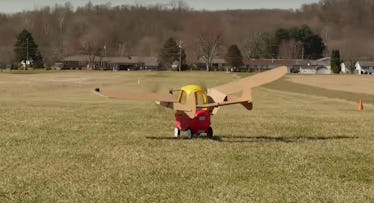 YouTube/FliteTest
Little Tikes' Cozy Coupe wasn't exactly built to get off the ground, but that didn't stop this group of DIY tinkerers from putting its aerodynamics to the test. The guys behind YouTube's FliteTest channel decided to forget the wheels and try to get the full toy car into the air, and it turned out to be just as awesome and frustrating of a process as you'd expect.
Spoiler: yes, it can fly … sort of. Cozy Coupes weigh in at almost 20 pounds to start, so transforming it into a working plane required intense mechanical modifications, starting with a pair of massive electric motors with 28-inch propellers. Each propeller produces over 30 pounds of thrust, which the FliteTest team thought would be enough to get the car airborne, which completely failed its first flight test.
It took the guys many, many more tries and overhauls of the wing design to give the Cozy Coupe enough lift. And even though it only made it into the air for a few seconds before totally crumbling, that short flight might make you believe that anything's possible. Just don't test out this DIY project with a kid in the front seat.
This article was originally published on