10 of the Coolest Chewbacca Toys Ever Made
Action figures, masks, Nerf blasters, and more from a galaxy far, far away.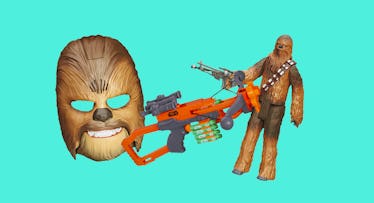 With Star Wars: The Last Jedi busting box office records and Solo: A Star Wars Story set to hit theaters this weekend, the mightiest Wookiee in the galaxy is enjoying more screen time than ever before. Not just Han Solo's co-pilot and confidant, though, Chewbacca's a highly skilled, kickass, and, yes, lovable furry hero with both a big heart and massive fan base. So naturally, it's not surprising that over the years there would be a slew of awesome toys inspired by him. But which ones stand out in the Mos Eisley Cantina? Here are 10 of the coolest Chewbacca action figures, plushes, and masks for Wookie-loving kids across the galaxy.
Chewbacca Electronic Mask
What's the next best thing to playing with Chewbacca? Becoming Chewbacca, of course, complete with full roar. This Star Wars Episode VII electronic mask ⏤ made famous by the laughing lady ⏤ has a customizable fit and lets out a big growl when the mouth is opened. Open the mouth wider, and the growl gets louder and more ferocious.
Star Wars Ultimate Co-Pilot Chewie
Available this fall, FurReal Friends' Ultimate Co-Pilot Chewie is an adorable, 16-inch furry take on the formidable Wookiee. Created by the makers behind Roarin' Tyler Tiger, the interactable toy comes with 100 different sound and motion combinations.
Lego Chewbacca
Lego's brick Chewbacca might not be as warm or cuddly as others, but he's fully buildable and can be posed in countless, action-packed positions. At almost a foot tall, Lego Chewbacca features a removable ammo belt and bag, and a bowcaster with working, spring-loaded shooter.
Forces of Destiny Roaring Chewbacca Adventure Figure
It's undeniable that there's something a tad off about Forces of Destiny Chewbacca's eyes, which are bigger and more humanlike than Star Wars fans might expect. But what's cool about this fully-posable action figure is that it boasts soft, realistic fur, as well as electronic roars, a bowcaster, and a detachable ammo bandolier.
Star Wars Nerf Episode VII Chewbacca Bowcaster
Nerf's Bowcaster puts the power of the Wookiee's favorite weapon right in your kid's hands. It features a working crossbow that fires darts up to 65 feet and is equipped with a four-dart holder and removable scope.
Star Wars Supreme Edition Chewbacca Costume Mask
Easily one of the most realistic Chewie masks not found on a movie set, Rubies deluxe edition latex Chewbacca mask features brown and grey fur, eerily detailed teeth, and padded foam at the top of the head for comfort. Even better, eye, mouth, and nose holes help alleviate some of the heat under all that fur.
Build-a-Bear Chewbacca
Build-a-Bear Workshop's plush is a super soft, toddler-friendly take on the Wookiee that's perfect for cuddling. This Chewbacca stands a striking 18-inches tall and can be customized with clothing, accessories, and special noises when you squeeze his paw.
Star Wars The Force Awakens 12-inch Chewbacca
At a foot tall, this movie-accurate Force Awakens edition of Chewbacca has all the formidability of the real deal. And, for a 200-year-old Wookiee, he's surprisingly limber, with more than seven moveable, posable joints. Force Awakens Chewie also comes with his signature bowcaster and bandolier.
Chewbacca with AT-ST Funko Pop
Chewbacca's gotten the Funko treatment a few times over the years, but arguably none are as awesome as this Return of the Jedi-inspired figure. It features tiny, adorable Chewbacca riding an incredibly-detailed AT-ST.
Every product on Fatherly is independently selected by our editors, writers, and experts. If you click a link on our site and buy something, we may earn an affiliate commission.
This article was originally published on