The Finest Gifts For The Man Who Has Everything — And A Story To Tell
You're a gentleman and a father.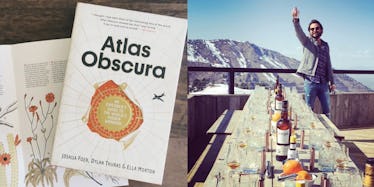 This article was produced in partnership with our friends at DEWAR'S, who celebrate the entrepreneurial, adventure-embracing spirit of fathers (and fathers-to-be) everywhere.
You may be a dad, but you're still a charming, adventurous, worldly fellow. The only difference is that now you collect parenting tips from around the globe instead of rare artifacts, exotic spices, and stories few people believed anyway. Yes, you, sir, are a gentleman and a father. And, like a fine Scotch, you only get better with age. Not unlike the story of Thomas Robert "Tommy" Dewar, the First Baron Dewar, who was also a father — a founding father of DEWAR'S fine Scotch, formally known as John Dewar & Sons Ltd.
John was one of the first Scotsmen to blend whiskey and Tommy was one of his "and sons." Tommy left his brother, John, Jr., to run the business while he galavanted around the globe for 2 years and, using creativity, guile, and God-given charisma, expanded their father's distillery into a global brand in ingenious ways from publishing his travel journal to etching "John Dewar & Sons" into wagon wheels so they'd leave wordmarks on dirt roads as they passed. Like any good father, Tommy did whatever he had to do to succeed, even if that meant sometimes making it up as he went along. It is that eternally optimistic and entrepreneurial spirit from which this holiday wishlist is drawn. Request one of these artfully crafted, meticulously engineered, or just plain gorgeous items to keep your adventurous spirit alive and ensure that you'll be telling your story for years to come. The same one, over and over again — like Tommy Dewar, your father before you and their fathers before them.
Virtual reality is finally here, which makes you wonder what futuristic thing your kid will spend their entire life waiting for. (Definitely hoverboards. But those things are never happening.) The Daydream View can teleport you pretty much anywhere, which is perfect since your real-world travels are likely on hold for a while. If you do find yourself on a plane, Daydream also offers a spectacularly isolated view of your favorite movies and shows.
Philips Smokeless Grill
Don't leave the house and stand under a golf umbrella just to make your kids a hot dog. This die-cast aluminum Philips smokeless grill preheats in 6 minutes. Infrared rays and heat reflectors evenly sear meat at 450 degrees, and the grease tray keeps your food from stewing in its own fat — all without noxious fumes. Some meats will still smoke a little, but they swear they're trying to quit. Also, you make jokes like that now.
DEWAR'S 12
You're constantly evolving with the times (Rest In Peace, Cargo Shorts. 1998 – 2016), but a nice 12-year-old Scotch whiskey never goes out of style. "The Ancestor," so named for founder John Dewar, is a time-honored, double-aged blend of smoky, malty, and sweet. Keep some on you for when the moment calls for a sip. Just tuck a flask into your carg- … oh, sweet irony!
GoPro Hero5
GoPro's smallest, lightest camera yet, the GoPro Hero5, lets you capture all your adventures — or point-of-view footage of your kid's — with the professional quality you've come to expect, only better. The Hero5 shoots in 4K and has advanced stabilization and voice activation. That means you can strap it to your little critter, yell at it to turn on, and capture your kid's wobbly misadventures before they disappear out of view.
Snowe Bar Set
Whatever your drink, there's a proper glass. You shouldn't offer your kid a sip until they're at least … actually, you should decide that, not the Internet. The point is, set a good example so Junior will be a sophisticated sipper when they come of age. Until then, Dad's durable crystallized glasses will be tough for them to break.
CMRA
Phones are cameras first and everything else second nowadays. That's why it's surprising (if not ergonomically understandable) that the Apple Watch offers no way to take photos or video chat short of taking your phone out of your pocket. And who has time for that? CMRA is an Apple Watchband with front- and rear-facing HD cameras you can use instantly. Because your kid is adorable, but there's no way they're holding that pose.
Wilson X
Whether you're teaching them to sling it like Brady, one-hand it like Odell, or safely enjoy a long, concussion-free career like [Insert Long Snapper's Name Here], do it with the Wilson X. The ball and connected smartphone app track completions, velocity, spin, spiral efficiency, and distance, which promises to elevate your kid's game. Yours, too. Unless your name is Archie.
Atlas Obscura
If a guide to "700 of the strangest and most curious places in the world" sounds like your kind of bedtime story, pick up Atlas Obscura, a beautifully illustrated bestseller. See if your kid can distinguish between their dad's epic world travels and your curated picks for father-child bucket list globetrotting. First stop: the Spanish Baby Jumping Festival!
Ember
Ember lets you have your coffee and heat it, too. Advanced thermal technology warms your coffee (or tea, fine) to the perfect preset temperature — neither depressingly cold nor microwaved liquid magma hot — and keeps it there for 2 hours on the go, or all day on its charging coaster. So after you've extinguished the first 12 parental fires of your day, your coffee's still hot enough to fuel you for the next round.
BenQ Projector
Your parents had the slide projector, but your kid will be forced to watch old home movies on a movie theater-quality, best-in-class BenQ projector featuring a premium optical glass system. Because they deserve to relive their most embarrassing moments in spectacular 1080p lit by a 2200 lumens bright bulb. And if they refuse to watch, the game will still look damn good on this thing.
The Savoy Cocktail Book
Cocktail culture was born in London's iconic Savoy Hotel. Tommy Dewar brought Scotch to London as the hotel's most senior resident (how many points for a 30-year stay?) and Harry Craddock left America during Prohibition to tend bar there. That's where he invented now classic quaffs and popularized the dry martini. This facsimile reproduction of Craddock's The Savoy Cocktail Book will put you in the shoes of an early 20th-century playboy, while watching over a 21st-century playpen.
Raden A22 Carry-On Luggage
As airport security lines get longer, luggage must get smarter. The Raden A22 is carry-on luggage built like a tank that can be located anywhere in the world via a reliable smartphone app — unless you trust the airlines to track your lost bags. It can also charge your smartphone 4 times with its 7,800 mAh battery, in roughly the same amount of time it'll take all those people in front of you to take off their shoes.
No Man's Sky
Even if you can no longer spend hours exploring the uncharted universe of No Man's Sky, sleepless nights make for ideal opportunities to float into its transcendent, epic soundtrack. Plus, there's always time to pad your LP collection. The soundscape by 65daysofstatic has been described as "taking flight into a Chris Foss painting," which you definitely don't have time to do either.
Star Wars Ice Mold
The next best thing to an R2-D2 mini fridge that rolls up to your easy chair with the drinks you're looking for, is using the power of the force to keep your cocktail cooler than a Tauntaun's toenails. Feel free to use an ice mold whenever you take the kid to their first Star Wars feature, by the way. You're welcome.
Give'r Gloves
These bad boys are all leather and 100-percent waterproof, with Thinsulate insulation, optional "bombproof" wax coating, and hand-braided initials. Perfect for all those times when fatherhood demands that you roll up your sleeves and by God get things done. Or change a "By God, what the hell is that?" diaper.
ENJOY RESPONSIBLY. ©2016. DEWAR'S, ITS TRADE DRESS, TRUE SCOTCH, THE CELTIC DEVICE, AND THE JOHN DEWAR SIGNATURE ARE TRADEMARKS. IMPORTED BY JOHN DEWAR & SONS COMPANY, CORAL GABLES, FL. BLENDED SCOTCH WHISKY – 40% ALC. BY VOL.
This article was originally published on