Coming Attractions: 5 Family Cars That Should Be On Your Radar
From a sleek hybrid to a straight-from-the-future electric SUV, these five family cars deserve a spot on your wishlist.
by Michael Frank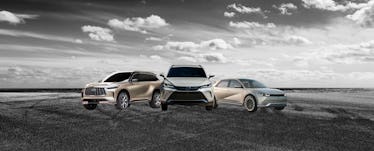 Family cars keep getting better and better. Every year, it seems, there are strides in packaging, design, and innovation, from smarter safety tech and sharper interiors, to how-did-they-not-think-of-this-sooner features that just make parents' lives a little easier. This year is no different. And while the pandemic delayed a lot of vehicle debuts due to fears of economic anxiety (not to mention assembly line and supply chain disruptions worldwide) that's only led to pent-up demand for innovation in gas-powered vehicles, hybrids, and EVs.
The five family cars below are all a testament to this innovation. Now, it's good to note that that the farther out we look the fewer details we have on factors like seating and pricing, but overall, as the below emphasizes, what's coming to shape is a better and far more interesting family car landscape. Are some of the vehicles here a bit pricey? Yeah. But that's not all we're ogling; there's been a trickle-down effect of excellent ideas and design making its way into cars, crossovers, and SUVs for all comers. We're especially looking at not just what these vehicles are, but the features they'll herald shortly thereafter. And the future is looking very good.
Kia Carnival
Kia's doing something with their new eight-passenger Carnival that Acura learned a way long time ago on their MDX. They're packing SUV style into a box with all the utility of (shhhh) a minivan. This is the one vehicle in this assortment that's not electric, but there's a good reason: Wow is it sweet. Kia's promising best-in-class roominess and some seriously smart utility, too, like a center seat in the second row that folds into a table with cupholders, creating a literal border between, say, two surly teenagers. And we love the Quiet Mode that lets you pipe audio only to the front speakers, so if your children are sleeping you can still catch up on a podcast without waking them. Also, Kia's tech is groundbreaking in the family car segment, especially on the inside-car communications front. They're also including a lot of standard safety hardware, too, with 12 driver assistance features at the base price, like blind spot and lane keeping. Available Now; $33,275
Toyota Venza Hybrid Limited AWD
Think of the Toyota Venza as the Subaru Crosstrek Hybrid but with way better fuel economy. The Venza, out now, gets a combined 39 city/highway mileage vs. the Subaru's 35mpg, and on top of that, the entire cabin is more upscale, and roomier. Especially in the backseat, where your long-legged kids won't be jamming their knees up against the driver's seat because they'll actually have space to stretch out. Carmakers too often skimp on second-row knee room with smaller crossovers like the Venza, but Toyota's gone the opposite direction with their hatchback, which sits at closer to car-height, so shorter drivers can appreciate both its sweet spot for down-the-road vision, without being nine feet up so that it's impossible to load a toddler into a car seat or their stroller into the hatch.
The cleverest feature in the ride is a full panoramic glass roof that you can change from clear to translucent at the tap of a button, so on warmer days you can let light in, but not heat. We also dig that both front passengers get heated and cooled seats, that the center console is large enough for everyday items, and the inclusion of a very large, hidden storage compartment in the hatch bay as well. Toyota was also clever to add wireless phone/app pairing, and an array of dedicated capacitive touchscreen controls that stand distinct from the swiping and tapping you'll perform on deeper menus. Maximum cargo capacity is 55 cubic feet, which is plenty for most families with one or two kids and on par with similar vehicles. But what you're getting is a smoother riding, quieter vehicle with a slicker cabin that's a lot more on par with its Lexus cousins, minus the $50,000 sticker. Available Now: $39,800
Jeep Grand Wagoneer
If you're old enough, you remember the Grand Wagoneer as a sort of AMG of Jeeps — a decidedly not Wrangler category of family hauler from throwback days that included Internationals and Broncos and FJ Cruisers that are (through today's eyes) pretty rudimentary, but still, visually awesome.
The new Grand Wagoneer, with seating for up to eight, will be anything but rudimentary. Take, for example, the option to include yours with up to seven screens (front and back), and video streaming from Amazon for the rear passengers via the Fire TV for Auto service. That's just the start. What your kids get to stream can be controlled from a secondary display in front of the person riding shotgun, while second-row passengers can individually adjust their own heating and cooling. An optional McIntosh audio system — with either 19 or 23 speakers — is the first time the American brand has teamed up with Jeep, and they created their own in-car app that includes needle gauges like you'd see from the audiophile brand's $14,995 MA8900 integrated amplifier. For extra pizazz the McIntosh blue logo even illuminates on the speaker panels in the doors. Wild stuff.
Beyond all the electronics, designers thought long and hard about making the Grand Wagoneer a very comfortable car for kids, too, so one reason the rear of the vehicle doesn't can't forward was to give that third-row passenger a bigger window to see out of — and to make the Grand Wagoneer safer to drive, too, since thick rear pillars create a bigger blind spot. While the Grand Wagoneer also comes with a huge quiver of standard safety features, including lane keeping and blind spot alert, there's still no technology as sophisticated as simply seeing outside the vehicle with your own eyes. Available July 2021; $88,995
Hyundai Ioniq5 and Ioniq7
The Ioniq5 has the cargo space (and AWD) of a compact SUV, but is nearly five feet shorter. What magic is this? Well, tiny electric motors and no engine bay allowed designers to push the Ioniq5's wheels all the way to the corners. The result is a small footprint with a larger cabin, and a maximum cargo of 56 cubic feet. Second row seats both slide and recline, and so does the front row, complete with lifting footrests, just in case you want to take a nap while charging. But…that'll hardly be necessary, as Hyundai is promising a recharge for up to 60 miles of range in just five minutes. To be fair, that will be on the fastest-only level 2 chargers. But still: damn.
More great tech inside includes only plant-pasted or recycled materials and the use of very low-VOC plastics. Plus, instead of a head's up display, Hyundai's promising AR for the windshield. Think: 3D gauges and mapping directions that appear to have "depth." Lastly, you'll be able to use the Ioniq5 as a power base station, with 220 voltage output to recharge devices as large as electric bikes. We keep waiting for tech that would allow "shore" power from EV to homes, say, during a weather emergency, and we might be inching that direction. P.S. Yes, the Ioniq 7 is likely a full-sized SUV with a lot of the same tech, coming in late 2022. Available: September; $42,000 (est)
Rivian R1S
Rivian's an EV startup that's drawn huge investment from the likes of Amazon, but also from partner Ford. The latter is probably more important to Rivian's success, at least early on, since the legacy carmaker will understand the pain points of building Rivian's future SUVs and trucks. In either case, their first jump into family cars seems promising: The seven-passenger R1S, which is built on the same platform as the R1T pickup, and positioned as a luxury SUV intended for adventure.
And the R1S sure is luxurious. There are two interior package options, one that includes a real ash wood-wrapped dash and another that features a matte black interior motif. There's a glass panoramic roof (and for 2022, it will be removable, for an open-air driving experience), large touch screen interface, and audio system that — why not? — doubles as a removable Bluetooth speaker. The seats seem big and cozy and are available wrapped in vegan leather and with optional warming/cooling systems. Regardless of the options, second row seats fold 60/40, while the third-row splits 50/50. And there's a total of 108 cubic feet of storage.
The R1S is made with family adventures in mind. As such, it offers high-capacity battery options that provide as much as 400 miles of range; it can also tow more than 7,000 pounds. There are also plenty of why-didn't-anyone-do-this-before? features, including factory-made roof-rails that were designed from the get-go with aerodynamics and noise-quelling in mind (plus, instant, tool-free removal), brightly lit cubbies throughout the cabin so you can actually see what you've stored inside, and a suspension that crouches when the R1S is stopped. Any parent who's cursed while hoisting a haul of groceries or child into the raised seat of a SUV will certainly appreciate the designer hearing their cries. Available: July; $70,000 and up (est.)
This article was originally published on