Now You Can Wear Han Solo's Parka From 'The Empire Strikes Back'
Columbia Sportswear's limited-edition 'Echo Base' Collection looks like it was stolen straight from wardrobe.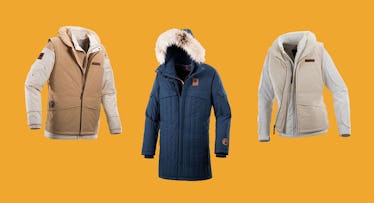 Columbia
Between the Tauntauns, the Snowspeeders, Han's rugged bravado, and iconic blue parka, the scenes from Hoth in The Empire Strikes Back are by far some of best in the history of the Star Wars series. And if you were one of the kids who spent endless snowy days trying to dig an intricate network of ice tunnels in the backyard, prepare to have your mind blown: Columbia Sportswear is releasing a limited-edition line of winter coats from the movie that look like they were stolen straight from wardrobe.
The officially-licensed 'Echo Base' collection ⏤ which (weirdly) celebrates the 37th anniversary of the greatest Star Wars movie of all time, The Empire Strikes Back, and has nothing to do with The Last Jedi ⏤ goes on sale this Friday online and in select Columbia stores around the country. It includes three coats: Luke's 'Warmer Than a Tauntaun' water-resistant jacket-vest combo with stowable hood; Leia's similarly styled 'May the Force Be With You' Echo Base jacket; and Han's badass blue, three-quarter length parka with faux-fur trimmed hood.
All three coats are made from a cotton-blend fabric and feature the company's proprietary Omni-Heat™ Reflective insulation to conserve body heat, so even if your Taunton freezes before reaching the first marker, you most certainly won't. They cost $400 each (come on, what did you think it would cost to legitimately look like Han Solo on your subway ride to work?) and in a hat tip to the year the movie was released, 1980, the company is only selling 1,980 of each.
This article was originally published on