7 Coffee Mugs With Big Handles Because Who Wants a Small Handle?
The best kind of coffee mug is one with a handle that does not block your hand.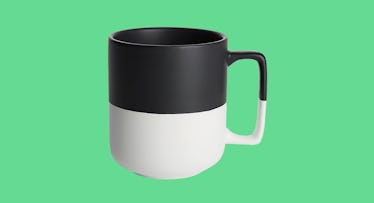 Most coffee mugs have handles that are way too small. Sure, they're fine if you want to grasp the handle from the outside, but the better way to hold a cup of coffee is by sliding your fingers inside the handle and cradling the coffee cup itself. Or at least have the opportunity to do that because hey, sometimes we feel like grabbing the handle and sometimes we want to give the mug some love. It's a petty thing, but we drink coffee everyday, so it's worth it to have the right mug for the job. If you, too, want this feeling, here are seven excellent mugs that have handles that are big enough to fit your fingers.
CB2 Black Dip Large Mug
This oversized mug comes with a large, nay, properly sized square handle that easily fits most hands. The top half is dipped in a matte black glaze, a simple yet stylish touch.
YETI Rambler
With its stainless steel construction and scratch-resistant Duracoat paint job, this large-handled mug is made for the great outdoors. Its double-wall vacuum insulated and lid will keep your coffee hot no matter how chilly it might be outside.
Williams Sonoma Open Kitchen Bistro Mug
This large handled cup, with its asymmetrical stripes circling the rim, is inspired by the dishes used in French bistros. At four for six bucks, it's also one of the most affordable mugs on this list.
Williams Sonoma Double Wall Cooper Coffee Mug
The copper-plated exterior really makes this mug stand out, but it's the amply-sized, curved handle that brings it home. Just be careful: people might think you're having a Moscow Mule at 9 a.m.
J.A. Henckels Zwilling Sorrento Double Wall Coffee Mug
Some people like a clear mug through which they can see their coffee. Maybe it's because its an easy way to show people when you're ready to field their questions. In any case, this pair of transparent mugs made of dual layers of mouth-blown glass. They look delicate, but they're dishwasher safe and very well insulated.
El Grande Style Large Ceramic Coffee Mug with Big Handle
These stoneware ceramic mugs come in five different colors. There's nothing fancy here: just a couple of mugs with conveniently oversized handles.
Hasami Porcelain 15 oz. Mug
Hasami is continuing a long tradition of pottery making in the district of Japan that shares its name. Like their other pieces, this mug is made of a mix of clay and porcelain that, like a nice leather bag, looks better with wear.
This article was originally published on