The Best Coffee Beans You Can Buy, According to Award-Winning Baristas
Because great coffee requires great beans.
by Hudson Lindenberger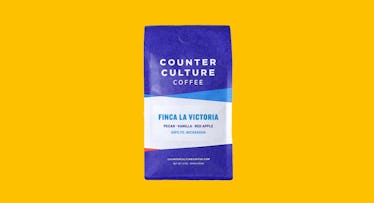 Pssst. You — yes you. The exhausted dad fumbling around the coffee maker. We get it: at certain time in the morning, any coffee will do. But if you're looking for a quality cup of homemade coffee, you need quality coffee beans. You can worry about the microns in your filter or neurotically tweak the temperature of your pour over, but without good beans that you grind yourself, you won't achieve peak java. So, to help you discover some top-of-the-class beans, we reached out t those who know the landscape best: the Barista Guild of America. Eight members of their executive council suggested a bag of coffee beans that they not only think tastes wonderful but impacts the community from which it came. Here are their picks.
See more: Best Coffee Beans
Spyhouse Coffee Roasters Ecuado Juan Peña, La Papaya
"This is a coffee that I look forward to every year. Juan Peña has quickly risen to become one of the most sought-after coffee producers on the market today. His extensive background in horticulture and farming ornamental roses has influenced his unique approach to coffee production. It's exciting to taste and see how the coffee changes year after year under Juan's growing understanding and technique of caring for his crop, and collaborative research with Spyhouse Coffee and green coffee importer, Café Imports." -Kathie Hilberg, Director of Wholesale Relation and Education at Spyhouse Coffee Roasters and Chair of the Barista Guild of America Membership Committee
Stovetop Roasters Rwanda Remera
"This coffee stands out for its rich stone fruit sweetness, and persistent and memorable spice finish. The Muhirwa family has been processing phenomenal coffees from Rwanda for many years, and this one is no exception. It is a beautiful representation of pride and progress for the people who produced it, as nearly all of the people who pick and carry the coffee from the farm to the processing stations were born after the 1994 genocide. When you buy Rwandan coffees you're supporting a new generation of Rwandans striving for unity, equality, and a more socially and economically sustainable future for themselves and for future generations." -Sam Schaefer, Director of Retail at Stovetop Roasters and Vice Chair of the Barista Guild of America Membership Committee
Raleigh Coffee Company Guatemala San José Poaquil
"This area of Guatemala has only recently become known for its coffee production. With the help and support of the Hanns R. Neumann Stiftung (HRNS) foundation more than 1000 smallholder coffee farmers in the area have been provided with increased access to markets allowing them greater revenue for their crop. The cup is delicious with citrus acidity, melon sweetness, creamy chocolate and a soft body. This is a great representation of great coffee in the Old North State." — Brent Hall, Business Development Manager at VP Coffee and Chair of the Barista Guild of America Content Development Committee
Counter Culture Coffee Nicaragua Finca La Victoria
"I chose Finca La Victoria (Counter Culture Coffee) primarily because it's a coffee that tends more toward the savory side, which is where I like my coffee. It tastes of golden raisin with chocolate undertone's and is a super accessible coffee for people not in the industry, but also a delightful treat for those in it. I also think that a coffee from Nicaragua is super timely. With the crisis in Nicaragua it's important to remember, as cut off from the rest of the world that specialty coffee seems to be, that coffee is a true global product and affected by political and social upheavals all the time. As coffee professionals, it's important to remain engaged in these issues." — Adam JacksonBey, Barista at The Potter's House, member of the DMV Coffee board, and Vice Chair of the Barista Guild of America Outreach/EDI Committee
Verve Coffee Roasters Guatemala La Candelaria
"La Candelaria is grown on the slopes of Volcán Acatenango in Guatemala, in the shadow of Volcán de Fuego. Verve has done a limited release of this coffee to support relief efforts for those effected by the Volcán de Fuego eruption on June 3rd of this year with 10 percent of sales going to Cruz Roja Guatemalteca (Red Cross of Guatemala). I enjoy this coffee for its wonderfully sweet melon and brown sugar characteristics." — Matt Scott, Owner of Lemonjello's Coffee and the Vice Chair of the Barista Guild of America Events Committee
Black and White Roasters Burundi Lot 4 Gaharo
"This coffee is part of a larger project called The Long Miles Coffee Project whose goal is to help create meaningful relationships between coffee roasters and coffee producers though quality product and ensuring fair wages for the producers. This Long Miles washing station, Bukeye, processes coffee from four hills surrounding the area and comes from the farms on the Gaharo hill. I'm enjoying this coffee because, unlike most Burundi's that are more citrusy, it carries more delicate, sweet flavors like oolong tea, melon, peach and vanilla." -Brent Hall, Business Development Manager at VP Coffee and Chair of the Barista Guild of America Content Development Committee
Onyx Coffee Lab Kenya Thikagiki OT-15
"I may be biased because I work at Onyx Coffee Lab, but I am really loving their Kenya Thikagiki. I always look forward to when the Kenyans arrive in Summer. Kenyan coffee tends to be savory, sort of tomato-y, and mouthwatering. This coffee is not that savory, which I find refreshing (also because I have been making it as an iced coffee). There is something in the coffee that reminds me of cranberry, which reminds me of fall, which makes me think of the brisk weather, which helps me forget this heatwave." – Gabe Smentek, Director of Stuff at Onyx Coffee Lab and Vice Chair of the Barista Guild of America
Gimme Coffee! Colombia Finca San Luis La Gloria
"This is probably my favorite coffee of all time. It's from a small, organic farm in Tolima, Colombia run by Omar Arango and roasted by Gimme! Coffee in Ithaca, NY. I heard people say Omar's farm produces the best coffee in Colombia, and that's saying something." — Sarah Leslie, Owner of Leslie Coffee Company and Chair of the Barista Guild of America
Every product on Fatherly is independently selected by our editors, writers, and experts. If you click a link on our site and buy something, we may earn an affiliate commission.
This article was originally published on