This App Will Teach your Kids To Code — And You Won't Have To Pay A Bajillion Dollars For Access
We only recommend products we love and that we think you will, too. We may receive a portion of sales from products purchased from this article, which was written by our Commerce team.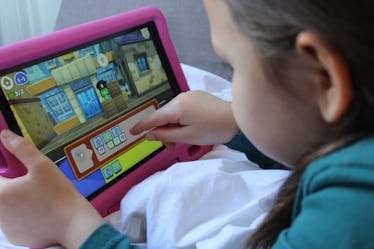 codeSpark
Gone are the days when the only people who knew how to code were computer programmers, website designers, and that one extraordinarily smart kid in class. As it turns out, coding concepts are super kid-friendly — or at least they are when served up in a creative way. CodeSpark Academy is an app that gives kids a super fun and educational experience, engaging them through games, puzzles, and play; so much so, they often don't even realize they're learning to code.
So, if you're looking for an after-school activity for your kids that they can do from home, doesn't involve watching 24 episodes of TV, and teaches them the fundamentals of coding, codeSpark Academy might be right up your alley.
Before we dive in, we want to throw this out to you: If you want to try the app before committing to a subscription (which we totally get), codeSpark Academy is offering Fatherly readers a free 14-day trial of the app by using the code FT14 at checkout.
What Is codeSpark?
CodeSpark is an award-winning app designed to teach kids ages 5 to 10 the concepts of coding in a fun and highly visual way — without all the frustration that can sometimes pop up when learning to code (for your child and for you). The curriculum is backed by research from Princeton, MIT, and Carnegie Mellon, and it isn't necessary for your kiddo to have any coding experience to get started. In fact, the entire program is word-free, so even if your child isn't reading independently yet, they can still thrive.
Who Is codeSpark For?
The app is designed for both girls and boys, with lessons aimed at closing the gender gap in STEM. The female characters featured in the app — ranging from policewomen to astronauts — solve their own problems, so the underlying message is always one of empowerment.
The Pros
The codeSpark app introduces kids to important computer science skills, as well as concepts that focus on literacy, math, problem-solving, creativity, and even social-emotional development skills.
Beginners start by using drag-and-drop code to solve puzzles that introduce pattern recognition and sequencing, alongside colorful cartoon characters known as the Foos who live in the land of Fooville. Then they'll tackle loops, events, and conditionals. After kids master the early coding concepts, they can play games that work on the boolean logic (code talk for a type of algebra where all values are either true or false), variables and inequalities, automation, and more, eventually getting to build their own games and animated stories. If any (or all) or this sounds confusing, don't worry — the concepts are surprisingly easy to grasp.
The Cons
There is one thing about the app that kids with some coding experience might find frustrating — they aren't able to skip ahead. Each puzzle is designed to teach kids important concepts as they go, and without all the information learned in previous chapters, it might be hard to progress. For this reason, the app unlocks new lessons when levels are completed.
Another possible con? Since there aren't any written words, if your kiddo gets lost along the way, you may need to help them get back on track.
Can The App Run On Any Device?
CodeSpark is capable of being used on most mobile devices and through most web browsers. It can run on a desktop or laptop using Chrome or Firefox, Android devices running Android 4.4 KitKat or higher, iOS devices running iOS 11 or higher, and Kindle FireOS with 1 GB of RAM or more. OK, this concludes the technical talk.
What's The Cost?
When it comes to coding apps, codeSpark is refreshingly affordable. Right now, you can try the app free for 14 days, which is seven days longer than the current offer on the website. Simply enter the coupon code 'FT14' at checkout to receive your free trial. If you decide not to move forward with the app after your trial, just be sure to cancel 24 hours before trial ends, otherwise you'll automatically be charged.
The basic subscription is $6.67 per month if you sign up for the annual billing plan. If you aren't sure how long your child will want to use the app, or if you'd rather not commit for a long period of time, you can sign up for the monthly billing plan at $9.99 per month. Whichever plan you choose, you can always cancel at any time. Plus, an account can accommodate up to three user profiles, so the app can be shared with siblings or friends.
Is It Safe?
The app doesn't collect your child's private data, and there are no ads, micro-transactions, or communication with external parties. You can be confident that your kid (and your wallet) is safe using this app. In fact, codeSpark has been independently reviewed and certified by kidSAFE to meet "certain standards of online safety and/or privacy," according to kidSAFE.
Final Thoughts
With so many entertainment options for kids these days, it's overwhelming trying to figure out what should go on their screens and when. You want the app (or show) to be bringing more to the table than just keeping their eyes glued to their device. CodeSpark nails it in that regard. Enriching, engaging, empowering, it's finally screen time without the guilt. And, thankfully, it's offered at a relatively affordable price point.
This article was originally published on