This LEGO-Compatible Roller Coaster Turns Your Kid's Room Into An Amusement Park
Even better: It's the Cyclone!
by Dave Baldwin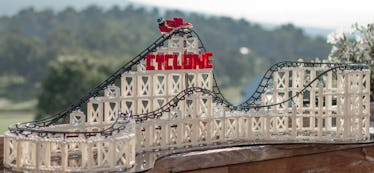 If you're feeling guilty about not being the guy who builds his kids a backyard roller coaster, make it up to them with a fully operating, scaled-down model roller coaster they can build and play with even if it's raining. Enter the CoasterDynamix Cyclone.
Having already mastered the art of creating miniature working replicas of iconic amusement rides, the good folks at CoasterDynamix are on to a new challenge: turning those models into LEGO-compatible, brick-based construction toys. First up, Coney Island's famous Cyclone. The 1,000-piece kit (targeted at ages 14+) includes the track, the train, and a hand-crank chain lift to make that sucker move (although it works with Lego Power Functions like motors and batteries too, if your fingers get tired). It measures about 4 feet in length and can be combined with multiple kits into one giant badass coaster.
Or, if you've always made fun of people who do models and just want a decorative roller coaster for your office, CoasterDynamix continues to pedal both their Classix O-gauge series (Cyclone, Comet, and Big Dipper) with accompanying amusement park accoutrement like ticket booths, dunk tanks, and Ferris wheels, as well as their wee small stainless steel Nanocoasters that come pre-built and measure a mere inches.
This article was originally published on