These Electronic Bricks Breathe Life Into Your Kids' LEGOs
Because LEGOs that don't walk are boring.
by Dave Baldwin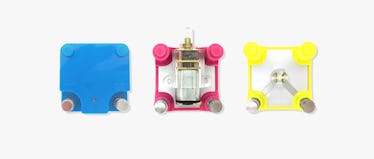 It used to be that when you finished building something with LEGOs, you put it on the table for your parents to admire. It didn't walk, light up, or move around — it was just there. Those days are long gone. Thanks to myriad LEGO accessories — including these new high-tech Circuit Cubes from Tenka Labs — turning ordinary building bricks into all kinds of interactive toys is a breeze.
Because you got to start that STEM training early, Circuit Cubes are "electronic building blocks that add sound, motion, light, and sensors to any creation or LEGO project." They're transparent so kids can see and learn about circuitry, and they connect using magnets; which means not only can they be stacked in any direction, but they can also be attached to non-LEGO toys (and common household items like toilet paper tubes and egg cartons). Each of the three main Circuit Cubes has its own function: One handles the power (1+ hours of battery life), one's got the motor (which turns at 1,000 RPMs), and one lights it all up with an oversized ultrabright LED. Put them together with your existing LEGOs, Mega Bloks, or the additional materials (wires, connectors, etc.) included in each Circuit Cube kit and you can create an endless array of moving plastic projects.
And speaking of kits, there are currently three available for pre-order: Whacky Wheels (which includes five car templates), Bright Lights (learn how to build a flashlight), and Smart Art, which includes six markers and the blueprints to build a machine that hopefully doesn't plot your demise while you sleep. Either way, they all cost $50 if you pre-order today, or $60 when they hit store shelves this spring.
(Pre-order for Late Spring)
This article was originally published on