Circuit Conductor Toy Unboxing and Playing
In this week's Fatherly "Toy Review," our editor-at-large, Joshua David Stein, takes a look at the STEM-oriented Circuit Conductor toy by Pai Technology, a toy that teaches children about electricity, currents, and magnets through fun, imaginative play! ADVERTISEMENT The Circuit Conductor toy uses 12 different electrical function blocks and specially insulated wires to build fun... View Article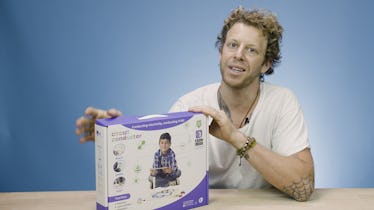 In this week's Fatherly "Toy Review," our editor-at-large, Joshua David Stein, takes a look at the STEM-oriented Circuit Conductor toy by Pai Technology, a toy that teaches children about electricity, currents, and magnets through fun, imaginative play!
The Circuit Conductor toy uses 12 different electrical function blocks and specially insulated wires to build fun circuits and learn about electricity. It also contains an integrated free app that lets you scan circuits to view electrical flows in real-time, follow tutorials, and play in-game puzzles to enhance problem solving and critical thinking. Circuit Conductor emphasizes focus, concentration, creativity, and hand-eye coordination for both you and your kids.
For $70, you can find it on Amazon, at your local Staples, or several other stores. The set comes with simple magnetic connectors, and as you go step by step, the entire process of building and learning is guided by the app. It shows you what to build, and once assembled, demonstrates how the electricity is flowing using animation. You snap a picture of your completed design, and it appears on the screen as a photo and an animated illustration.
According to Joshua David Stein, the Circuit Connector is a brilliant toy. Parents may have to help with several parts, as it seems a little challenging. However, he is taking it home to play it with his kids, knowing they will have a good time. The challenge is following the instructions, but that's part of the fun. Hands-on learners will have a blast connecting modules.