This Kid-Sized Projector Turns Their Room Into A Movie Theater
by Jonathan Stern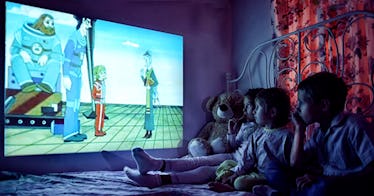 You thought that you had a pretty sweet home theater setup — what with the built-in surround sound, the high-end receiver, and OLED screen. Maybe you even bought a few leather recliners and vintage popcorn cart, thus ensuring you never have to go to another crowded megaplex for the rest of your life. But Cinemood, the digital projector designed especially with your kid in mind, has kind of lowered the brightness on your A/V dreams.
Built into a 3.14-inch cube, the Cinemood connects to the cloud via Wi-Fi and your phone via Bluetooth —the obvious upgrade over your smartphone is screen size. You can project a movie up to 100-inches on a white wall; that's 250 times bigger than your phone, so it must be 250 times better. Cinemood also comes loaded with 50 cartoons — worthwhile stuff like Winnie-the-Pooh and Treasure Island — which is a good thing because right now it only supports a few content APIs, like YouTube Kids and Netflix. There's even a sleep timer, so you could theoretically ditch the books once a week, point it at the nursery ceiling, and use it like a 21st Century mobile while you do something else (like eat dinner). Not that you'd ever do that.
Sure, there are other bonus features like video messaging that allows your folks to send their grandkids messages, but the prospect of grandpa looming 8-feet tall may trigger some latent phobias. Besides, just be honest, you're not going to use this cube for any of this. You're going to see how impossibly large Kevin Spacey's head is in House of Cards.
This article was originally published on