These Interlocking Cinch Tents Connect to Form a Giant Family Fortress
They also rock integrated solar power, LEDs, and climate control.
by Dave Baldwin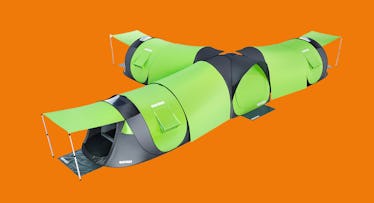 One of the biggest trends in camping over the past few years is also one of the most family-friendly: Interconnected pod tents. Not only do they ensure kids get their own "rooms" ⏤ and thus are not forced to sleep on top of their parents ⏤ but they provide a common area for everybody to hang out in and eat or play games. Whether you're camping with a big family or big group of families, pods are a win-win. And the latest to join the club, Cinch Smart Tents.
Already an insanely popular line of two-, three-, four-person pop-up tents that require little more than opening to setup, Cinch is back this year with both new features and an interconnected communal Hub. First, the tents: They remain as smart as ever. They're equipped with app-controlled 3500-lumen LED interior lights and illuminated tent stakes, a solar panel pack with integrated fast charger, and a climate-control canopy to regulate heat and light and keep the temps down inside. They feature dual canopied entrances, side windows, panoramic inner doors, a double layer groundsheet, and multiple storage bays and pockets ⏤ plus, an optional super canopy to extend the front porch.
Meanwhile, the new modular living area ⏤ dubbed the Cinch Hub ⏤ measures 7'9″ by 7'9″, offers 6'5″ of headroom, and can link four Cinch Pop-Up tents together into one fantastic tent city. It's also equipped with solar power, has four LEDs, and packs down into a 2'10" disc-shaped backpack for easy transport. Both the Hub and the tents also include a color-coded takedown system to ensure nobody spends an hour getting soaked while struggling to bring the tent down.
In terms of price, the Cinch starts at $299 for a 2-person while the Hub runs $325. No stranger to shattering crowdfunding goals, the UK-based company has already wrapped up this round of funding ($328k on a $30k ask) with time left on the clock. Which means that pre-orders ship for June, or just in time for this season's epic eight-family camping trip.
This article was originally published on