This Sleek Pedal Car Will Have Your Toddler Ready for Le Mans
Set to hit American driveways this month, it even folds up for easy storage.
by Dave Baldwin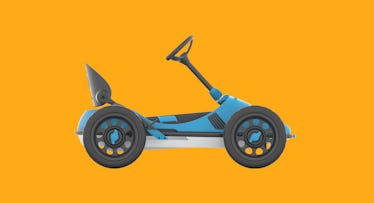 In an era of tricked-out toddler cars and luxury motorized ride-ons, it's easy to overlook something as old-school as a pedal cart. They're not nearly as sexy as a pint-sized Tesla or a push car that resembles a McLaren 570S. And crazier still, kids actually have to power the damn things themselves ⏤ with their legs. But then, just as one forgets that pedal carts even exist, along comes a head-turning European import that makes it impossible to look away. That import is the Monzi. And the sleek single-seat foldable race car that's set to tear up American driveways.
The Monzi comes from Belgium balance-bike specialists, Chillafish (they also make a sick BMXie for 2-year-olds, by the way). Unveiled in February at the International Toy Fair in New York, the push-car stands out for a couple of reasons. First, it's gorgeous. It comes in blue or red (and eventually in green and pink, as well), rocks racing stripes down the hood, and upsized 12-inch wheels with squealing Airless RubberSkin tires ⏤ no pump needed and no chance of a blowout. The 'AFR-hub' allows for freewheel pedaling in either forward or reverse, and a yank of the handbrake ensures on-the-dime stopping. There's even storage space in the front trunk for toys or groceries.
Cooler still for parents, however: The Monzi boasts an easy-to-adjust sliding seat back that allows the vehicle to fit kids ages 3- to 7-years-old. So everybody can take a turn without much hassle. And when everybody's had said turn, both the seat and the steering wheel fold down into the car frame (no tools necessary) to save storage space. As such, it can easily fit in the trunk of the real car and/or hang out of the way on the wall of the garage. It even includes a wall mount. The Monzi will cost $199 when it goes on sale later this month.
This article was originally published on