The Best Children's Books About Death
It's a difficult topic. These books can help parents lead the conversation with skill and sensitivity.
by Donna Freydkin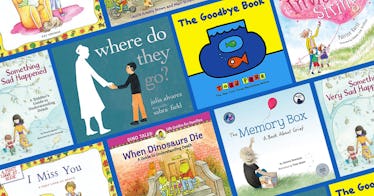 Kids, especially toddlers, are emotional tuning forks. They sense if we're anxious, despondent, or just plain sad, which, in these uncertain times, most of us are. When the COVID-19 pandemic will have run its course, if ever it does, chances are that all of us will know, directly or indirectly, at least one person who died from it. And that's pretty terrifying, especially for kids, which is why it's smart to have some of the best children's books about death on hand when it's time to talk to them about this deeply frightening reality.
The younger the child, the less they grasp what death really means (insofar as any of us do). And that's where children's books can play a critical role, explaining something incomprehensible and confusing in clear, concise, age-appropriate language. They also give parents a way into the topic, without being too forceful or pedantic, so kids feel empowered to open up about what they're going through.
"Kids are hearing a lot of stuff and they're not understanding what they're hearing. It's scary. You need to involve them in the conversation," says Dr. Dina L.G. Borzekowski, a professor at the University of Maryland School of Public Health who studies how media impacts the health and well-being of kids.
When talking to kids about death, says Borzekowski, "Don't talk down to them. Use words that people are using. Use the word 'virus.' If they don't understand something, explain it in simple declarative sentences and concrete terms. Get a grasp of what they know. You can see if there are some myths or exaggerations you need to address."
The best children's books about death use such simple language, don't sugarcoat or dismiss the difficulty of the experience, and ultimately validate kids' feelings. It can be hard for parents to know what to say and when to say it; these children's books about death can help guide the conversation.
Every product on Fatherly is independently selected by our editors, writers, and experts. If you click a link on our site and buy something, we may earn an affiliate commission.
This article was originally published on