The 8 Best Travel Trailers to Enjoy the Outdoors
Owning your own teardrop trailer doesn't have to break the bank.
by Dave Baldwin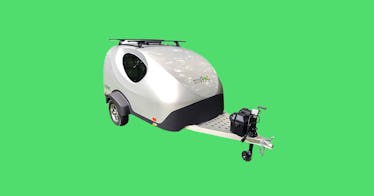 All it takes is one weekend in a cheap camper with a leaky roof for you and your family to swear off the life on the road. Let us offer an alternative: Spend a few bucks on a small camper trailer in the pull-behind design. These styles are lightweight, affordable, store out of the way, and are easily maneuverable, making you want to camp more. (And isn't that the point?) If 2020, a.k.a. the Year of Covid, has taught us anything, it's that even Netflix queues run dry, and unless you want your family to become pale-faced indoor people, finding enjoyable and safe ways to recreate outside is paramount. But it's not accidental. The best teardrop campers allow you and your family to fasten your pull-behind home to the trailer hitch and strike out to parts unknown.
Here's some even better news: To enjoy weekend camping trips, you don't have to cash in your kid's 529 Plan, take a second mortgage, or own a Ford 150. And we're not talking cruising Craigslist for a secondhand option. There are a surprising number of lightweight, family-friendly tow-behind travel trailers on the market that can be pulled by a four-cylinder car and cost under $20,000 — one base model even starts at $3,000. Some options on our list sleep up to five people, all come equipped with a galley, and one even converts into a boat should you want to combine camping and fishing in one fell swoop.
Granted, these figures still represent a big investment, and if you're not sure that buying is right for you, rentals are available with some trailer-makers or through Outdoorsy. But if you're in the market, these eight models are a great place to start.
No Boundaries Trailer by Forest River
Forest River's No Boundaries line provides a host of ultralight options that are all towable by four- and six-cylinder vehicles. They're also tailor-made for the outdoorsman and -woman with myriad gear stowage options from kayaks to bikes and beyond. Available in lengths from 12 to 25 feet, you'll go deeper in and further out thanks to generous ground-clearance, larger diameter tires, and forgiving suspension system.
Hiker Trailer
For the record, the smallest base model Hiker Trailer starts at only $3,795 – and that's not a misprint. The company's goal is to build "lightweight, affordable trailers to help people experience the outdoors." While the travel trailer is custom made, buyers begin by choosing from one of four default sizes (4×8-foot to 5×10-foot) and two styles (either basic or deluxe). Also, a pick-up location: Indianapolis or Denver. Their most basic teardrop rocks an aluminum skinned body, 14-inch wheels, dual windows, and 12-volt interior lights. From there you can trick it out with everything from a memory foam queen mattress, A/C, and solar panels, to a roof rack, television, and dual awnings.
Happier Camper HC1
There's plenty about this retro-styled fiberglass beauty to make you happy ⏤ including solar power, a rooftop A/C, and full-sized rear hatch ⏤ but the coolest feature has to be the Lego-like modular interior. Using stackable cubes, many of which double as storage, you can easily configure the trailer's inside to fit the occasion, be it a camping trip, hauling wood, or housing guests in your back yard. The HC1 travel trailer sleeps up to five people with a 6-foot-8 bed, has a removable galley, and rocks large panoramic vending windows that flip up so you can pass dinner to someone outside as if you were serving them at a food truck. It's available in seven colors.
Sylvan Sport GO Camper
This collapsible travel trailer combines the best of tent camping with the home-base ease of a little RV, for less than $10,000. Sylvan Sport, based in North Carolina, makes a whole line of adaptable outdoor travel gear (including a lightweight RV). The GO Camper is a pop-up tent that can be hauled behind just about any vehicle (at 840 pounds). The living space can be raised and ready in under 15 minutes, becoming a screened-in dining area, with 6.5 feet of standing room, or a sleeping platform for a family of four or five. Also cool? You can haul bikes or kayaks atop the pop-up camper when it's down, and you can repurpose the base into a toy hauler that can tow an ATV. You can also extend your thumbprint with a shade awning.
Timberleaf Pika Teardrop Trailer
Timberleaf, based in Grand Junction, Colorado, makes sleek-but-rugged trailers that can go way off-road, if that's where adventure takes you. The Pika is a lighter, smaller (and more affordable) version of their Timberleaf Classic. The Pika, named for an ultra-tough tiny rabbit that lives in the Rockies, has a 54-inch by 96-inch frame, making it pretty cozy but also manageable even across rocky, rough terrain and in tight, tricky spaces. The Pika has a pretty deluxe galley kitchen that folds out from the rear of the trailer and (cool touch) a skylight over the mattress for two, as well as LEDs for interior lighting. At 1,025 pounds, the Pika can be hauled by most cars, and easily upgraded for off-road travel, with burlier tires and amped-up suspension.
Sealander Amphibious Trailer
The Sealander Amphibious Trailer goes full Inspector Gadget when you roll it into a lake, transforming from tow-behind camper into calm-water cruiser complete with a 5HP electric outboard motor and fold-down stainless-steel swimming ladder. The six-person (13-foot x 5.25-foot) travel trailer is made of a single piece of fiberglass-reinforced plastic, weighs around 1,100 pounds, and can be towed by most vehicles. It boasts a convertible roll-up roof, large picture windows for plenty of light, and two bench seats that convert into a bed. Table, toilet, and shower are optional, as are a fridge/stove, electricity, and LEDs ⏤ it just depends on how much cash you want to drop.
MeerKat Trailer
The 13-foot MeerKat weighs in at a mere 900 pounds, and it can pretty much be towed by a dude riding a bicycle eating a PowerBar. Well, almost. Any four-cylinder travel trailer should do the trick. It sleeps two comfortably, has wrap-around seating (with storage underneath), and comes loaded with amenities like a galley, hanging closet, Porta potty, and ice box. Also, there's a pop-up roof so tall people won't hit their heads that much. Even better, it fits in the garage when you're not out exploring the countryside.
Vistabule Teardrop Trailer
Admittedly, the interior of the Vistabule Teardrop isn't huge; it's only as big as the queen-sized bed inside. So while it sleeps two-to-four people, it's obviously better if two of those four are not big. That said, thanks to a large front vista window (with a pleated privacy shade), extra-wide doors, and a bed that converts into a couch, the trailer feels much larger than it seems. The travel trailer is also equipped with space-saving amenities like built-in floor storage, drop-down nightstands, and a collapsible table for a rousing post campfire game of Pie Face. Plus, the kitchenette ⏤ which features a pull out two-burner stove, space for a cooler, and a sink with running water (a nine-gallon water tank is built in) ⏤ is on the outside, and there's a convenient pass-through into the cab for handing in plates full of hot dogs and baked beans.
Little Guy MyPod
The smallest in Ohio-based Little Guy Trailers trifecta of handsome tow-behinds, the MyPod weighs only 630 pounds and can be hauled by any standard four-cylinder vehicle. It's made entirely of molded fiberglass, sits on an ultra-lightweight aluminum frame and alloy wheels, and runs 11.5 feet in length from hitch to fender (it can be expanded by attaching a 5'x7′ screen room tent, sold separately, to the back door). Most of the travel trailer's length, by the way, is taken up by the full-sized mattress, which measures 52-inches by 76-inches and can sleep two adults with a small child. And while there's not a ton of move-around room inside the MyPod ⏤ the bed takes up most of the interior ⏤ the space is both well-lit thanks to three big windows (shades included) and well cooled, compliments of a three-speed fan and full A/C unit. It's also well entertained, courtesy of to 12v/110V power (with a solar upgrade option), a large flat-screen panel, and a built-in entertainment system. So rainy days can involve more than just playing cards or board games.
Every product on Fatherly is independently selected by our editors, writers, and experts. If you click a link on our site and buy something, we may earn an affiliate commission.