Charlotte's Web CBD Products and the "First Family of Cannabis"
The origin stories of one of the biggest name in CBD manufacturing is wild. They also use it as a testament to the product they put out.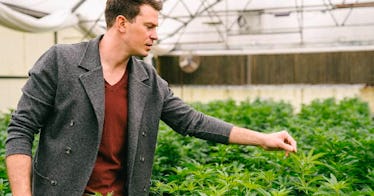 Charlotte's Web
This story was produced in partnership between Fatherly and Charlotte's Web. If you click a link on this page and buy something, we may earn an affiliate commission.
The "First Family of Cannabis" sounds like a particularly hare-brained Cheech and Chong movie, but it's actually the moniker given to the Stanley Brothers, medical marijuana growers and founders of CBD company Charlotte's Web, the pioneer and market leader of hemp-based extract CBD products. In a crowded marketplace, their products stand out as coming from hand-tended, non-GMO plants grown on American farms in soil that's tested for heavy metals and other contaminants before planting and water that's tested several times a year.
The seven Stanley brothers, all medical marijuana growers and dispensers, saw the growing demand for CBD through one customer — Charlotte, who suffered from Dravet Syndrom, a rare form of epilepsy that kept her wheelchair bound. They collaborated on a special strain of medical marijuana jokingly called "Hippie's Disappointment."
A hybrid of industrial hemp and low-THC cannabis, the new strain had a 30:1 CBD to THC ratio — all of the medicinal properties with none of the psychoactive effects. It was exactly what Charlotte and her family were looking for, and the brothers ended up renaming the strain — and naming their new CBD company — in her honor.
After the passing of the 2014 Farm Bill, the Stanley Brothers officially founded the company Charlotte's Web – taking the product from a medical marijuana product to a dietary supplement.
And Charlotte's Web has plenty of options for everyone interested in trying out CBD. There are oils of different strengths, from 7 mg/mL for the CBD-curious to 60 mg/mL for those ready to step it up. For those who prefer the convenience of capsules, there are liquid options — essentially the oil in pre-measured servings — and full- and extra-strength powder capsules.
Charlotte's Web also makes CBD gummies with specific formulations for calm, sleep, and recovery. They've even got your canine friends covered with a balm and drops for dogs along with chews they claim help with anxiety, hip & joint issues, and cognition.
Every product Charlotte's Web makes is a descendant of the original seed that helped Charlotte Figi. That's emblematic of the fact that, despite the growth that allows it to supply CBD products to more people, not much has changed about how the "First Family of Cannabis" operates. Charlotte's Web is still based in Colorado, and it still grows its hand-tended hemp on American farms without the aid of any chemical regulated by the EPA under the guidance of a team of agronomists and chemists that personally monitor plants in the field throughout the growing season.
While many reports like that coming out of the World Health Organization have CBD determined is was safe when taken on its own, it's a good idea to talk to your doctor about potential side effects.
This article was originally published on