All Cat Trees Are Ugly. These Are The Best-Looking Ones We've Found.
And we even found a dope cat bed.
by Donna Freydkin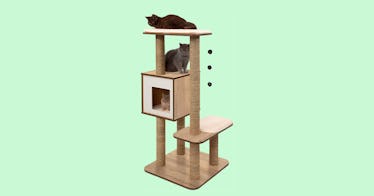 If you have cats, chances are, you have cat trees. And upscale, modern cat trees aside, the things are generally eyesores that take up huge chunks of your floor space and look like a carpet factory exploded inside in your living room.
From Cinderblock to Felix to Pete the Cat, felines have clawed their way into pop culture and into their owners' wallets. Cats are, for the most part, easy to have as pets. But they do have needs. According to the pet experts at Purina, cats like to have their own spots to rest, away from a lot of foot traffic. And they use a scratching post not to sharpen their claws, but to exercise, clean their nails, and mark their territory. Of course, cats are also finicky, which means there's no one-size-fits-all scratching post or cat tree.
A survey from TD Ameritrade revealed that millennials spend an average of $915 per year on their cats — that's $33.5 billion per year as a group. We're talking about a whole lot of cat beds, self-cleaning litter boxes, automatic cat feeders, and modern cat trees. These are the least-atrocious ones we could find.
We're big fans of the Vesper modern cat tree, which resembles actual furniture. It has an extra-long scratching post and a cubed den for napping.
This scratching post screws into the wall, so it's ideal for smaller rooms. Plus, one Fatherly editor has had it for two years, and it still looks brand-new after being beat up daily.
The neutral colors of this understated cat tree make it sort-of pleasing on the eyes, and the natural jute fiber scratching post will keep cats happy.
Plug this bad boy in, connect it to Alexa, and use it to communicate with your cats (or dogs). This thing flings treats either at will, or on a pre-set schedule, just to keep things interesting — because we all know a bored cat is destructive cat. It has interchangeable inserts for all types of cat treats. Plus, you get a 1080P full HD video camera with night vision. So you can see your pet, and talk to it, in the dark.
Hook this feeder up to your wifi network and download the app, and you can feed your pets remotely and set up an entire feeding schedule (up to 12 meals). Note that this works with dry food only.
Picky cats can either use the top or side entry options, but it's the clean-up that makes this litter box stand out. You insert a reusable liner (it will last for months, if not years) and just take it out, dump out the litter, wipe it down, and refill it again with fresh litter.
This cat bed rotates 360 degrees, and provides a fully enclosed comfortable space for your king or queen to get downtime.
This is a soft, warm, cozy cat bed slash cave with a detachable zipper, which means you can actually get two cat beds in one.
This felted cat bed is made from New Zealand wool so unless your cat has a wool allergy, he or she will dig it.
Every product on Fatherly is independently selected by our editors, writers, and experts. If you click a link on our site and buy something, we may earn an affiliate commission.
This article was originally published on