The Best Car Phone Holders
Plus, we found phone holders for bikes, too.
by Donna Freydkin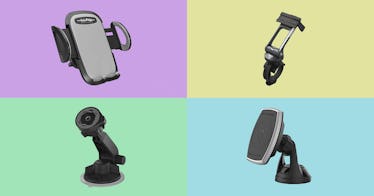 If you have a car, you need a car phone holder. While most Americas are rarely without their smartphones, that's especially true in the car, or whenever navigation is involved, since most of us can no longer get from point A to B without leaning on a few satellites. Smartphones connect parents with children and caregivers, offer a direct line to medical and emergency personnel, and let us capture (and share) all the big and small moments in kids' lives. And ultimately, that's the biggest and best reason reason to have a cell phone holder: it keeps indispensable devices nearby while keeping your hands on the wheel and your attention safely on the road ahead. According to the the National Highway Traffic Safety Administration, 2,841 people were killed by distracted driving in 2018 alone, accounting or 7.5 percent of total fatalities for that year. Daily, nine people die in incidents involving distracted drivers.
Phone holders are just as essential outside of the car — whether you're commuting by bike, working around the house or out for a run. The best cellphone holders for your car, bike, or run keep your device handy and accessible without drawing your attention from the task at hand.
The Best Cellphone Holders for the Car (and Bike)
Every product on Fatherly is independently selected by our editors, writers, and experts. If you click a link on our site and buy something, we may earn an affiliate commission.
This article was originally published on