This Retractable Baby Gate Is the Best Baby Gate I've Ever Used
It works like a roll-up window shade and extends to block stairs or openings. It's the safest I've found.
by Brendan Charles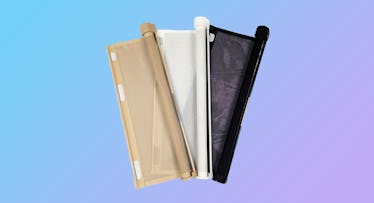 I love my house, but it has one major drawback: Stairs, everywhere. Which is why we embarked on a quest to find the best retractable baby gate when it was time to baby proof our home.
No matter how hard we looked, no matter how many stores we checked, we couldn't seem to find a gate that worked properly. And thus, with the task proving trickier than expected, we moved on to the rest of the baby-proofing checklist. Of course, that's exactly when our oldest decided to take a nasty tumble down said stairs. He was fine, thankfully, but I was left scrambling for an immediate solution.
Turning to the Internet, I read reviews for a ton of different gates and settled on one that seemed, at least according to the website, to fit our unique situation: the Retract-A-Gate by Smart Retract. Rather than being made of rigid wood or plastic, the Retract-A-Gate is plastic mesh and works like a roll-up window shade; you simply pull it out as far as needed to cover the bottom or top of the stairs.
Best Retractable Baby Gates
It measures 34-inches tall by either 52- or 72-inches long (if you need to block an entire area), and it fastens to the other side with a child-proof lock. You can easily operate the gate one-handed when you're juggling a toddler or some groceries, and it fits unconventional spaces nicely ⏤ I can attest to that. Even better, if you buy an extra mounting kit it can be moved from one location in the house to another.
Honestly, one of the biggest issues I found with the Retract-A-Gate was actually ordering the damn thing, because there's an abundance of options.
Luckily, the gate we ordered (in black, although it's also sold in white or mocha) arrived with all the necessary bits and setting it up was quite easy. In our case, we had a wood post on one side and an awkward railing that wasn't compatible with most gates on the other. We didn't have any installation issues and the Smart Retract gate worked so well that we ended up buying another for upstairs after our second child was born. I'm happy to report that since we put them in, our house ⏤ sorry, our stairs ⏤ have remained accident-free.
That said, the Retract-A-Gate is not without its issues. First, it's not cheap at $120 ($150 for the 72-inch model), and that's without any optional guardrails, hardware, or anchor kits. Second, even when locked in place, there is a little more give in the center of the gate than I would like. And while it is a relief not to have open and close clanging metal gate every time I want to sneak downstairs during naptime, the Retract-A-Gate isn't as solid as its metal or hard plastic counterparts. And third, it's possible for an extremely motivated (or resourceful) kid to slip through if they know how ⏤ although the gate should still slow them down enough for you to catch them before they escape.
All that said, the Retract-A-Gate works well for us. It fits our unconventional stair situation nicely and is safe without being overkill or an eyesore. It rolls in easily, leaves a low profile on the wall, and isn't any harder to set up than other traditional gates. Even better, it puts my mind at ease and almost rids me of the guilt I still harbor from letting my kid fall down a flight of stairs. Almost.
Every product on Fatherly is independently selected by our editors, writers, and experts. If you click a link on our site and buy something, we may earn an affiliate commission.
This article was originally published on