This Ultra-Compact Camera Gets up Close and Personal From the Bleachers
The ultra-compact point-and-shoot has a 40x zoom.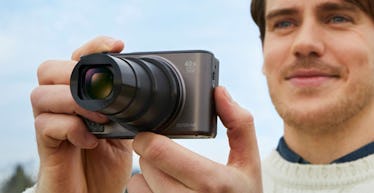 Contrary to popular belief, not all cameras these days come with a phone. And not every pocket camera gets buried at the bottom of a drawer. There are still plenty of solid point-and-shoots on the market, and for good reason: they take beautiful pictures. And what they cede to smartphones in convenience, they make up for in advanced features. In the case of Canon's new PowerShot SX730, that feature is a ridiculous 40X optical zoom that lets parents shoot T-ball games pretty much from the parking lot, Magnum PI-style.
Fully aware that it's competing with the iPhone, the 20MP Canon Powershot SX730 is also small and light. It measures 4.3-inches by 2.5-inches, weighs in around 10.6 ounces, and easily goes unnoticed in the front pocket of a diaper bag. It rocks a tilting 3.0-inch TFT Color LCD that rotates 180-degrees which, in conjunction with the "Self Portrait" mode, ensures proper selfies. And thanks to the innovative "Smooth Skin" mode, everybody in said selfie will look about 10 years younger. Which is why they'll want to share the picture on social media, and can do so easily thanks to the PowerShot's Bluetooth/WiFi compatibility.
Finally, the Canon Powershot SX730 also takes 85 minutes of full HD video at 60fps, or 355 pictures, on a single battery charge. It hits shelves in June and is available for pre-order today.
(Pre-order for June 2017)
This article was originally published on