The 7 Best Canned Wines and Cocktails for Summer, According to a Wine Connoisseur
Worthy additions to your next backyard BBQ, beach trip, or picnic.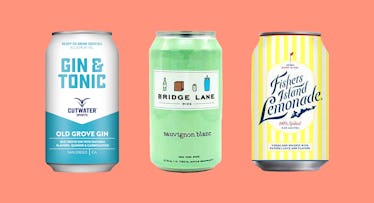 You have to wonder what took so long. Why have cans, trusted vessels for soda, seltzer, and beer for decades, not been used to transport other beverages? What kept our grandparents from imbibing wine or cocktails out of steel or aluminum? Who knows. Who cares. What's important is that we no longer live in those dark days.
Today, the market for alcohol in a can is exploding. And Tom Geniesse, the owner of Bottlerocket Wine & Spirit in New York City, recognized the trend early: "Great companies are making very tasty wines and mixed drinks now."
And during our summer and fall of social distancing, when staying home seems the smartest and safest option, these drinks are on point and easy to crack open in your yard, on your deck, or while lounging in your hammock.
It's a refreshing can of water, with a kick. At only 100 calories, you can sip this whenever you want. Or need. It tastes like the beach, in the best way possible, and is made from a a gluten-free fermented alcohol base.
Bridge Lane Sauvignon Blanc
The Long Island winemaker, Lieb Cellars, describes Bridge Lane's Sauvignon Blanc as "footloose and fancy-free with flavors of citrus, grapefruit and freshly cut grass." It's moderate in body, acidity, intensity, and finish. And at 12 percent, it's also moderate in booziness. It's basically a wine made for Goldilocks: just right.
Dear Mom White Wine
Dear Mom is a small, Portland, Oregon-based winery that opened last year and quickly struck an agreement with a local distillery to can its wines. Their white wine is a floral blend of Viognier, Marsanne, and Roussanne grapes. It's dry and light-bodied, making it a great wine to drink in warmer months. And while it's currently only sold in stores in the Northwest and Northeast, you can also order it online from their website. And you definitely should, as a portion of all proceeds are donated monthly to charities that benefit, you guessed it, mothers.
The Drop Rosé
Geniesse calls Drop's rosé "macho-friendly." Made in California, it's a Provence style, dry rosé blend with a light spritz ⏤ fruity on the nose with a mineral finish. Better still, it comes in a 375mL can with a resealable top (although they also sell single-serving cans) and the company offers a unique subscription service that will ship 24 cans of wine to your door every month.
Underwood Pinot Noir
Geniesse is a big fan of Oregon's Underwood wines: "These guys started the canning craze, and they're talented winemakers." If you're looking beyond whites and rosés, check out their Pinot Noir. Consistently rated one of the best values in Oregon wine, it has floral notes of red fruit and cola on the nose. It's moderately acidic with a light- to medium-bodied finish of plum, strawberry, cherry.
Electric Rosé
The single-serve rosé pouch (okay, so we cheated a little here) is a first for the industry and intentionally designed to evoke the pouch drinks of your youth. The packaging may be a gimmick, but the Chilean vino inside is anything but. It's on the drier side (way less sweet than Capri-Sun!) with citrusy qualities and medium acidity. According to Geniesse, Electric Rose pairs well with summertime staples like hot dogs and salteñas. Plus, the company donates a portion of its profits to Water2Wines, a charity dedicated to expanding sustainable access to clean water around the world.
Fishers Island Lemonade
Fishers Island Lemonade ⏤ a concoction of whiskey, vodka, lemon, and honey ⏤ was one of the first spirits-in-a-can Geniesse stocked in his store. Invented at The Pequot Inn, the only public bar on Fishers Island in the Long Island Sound (pop. 236), it's a well-balanced lemonade that's not too tart and not too sweet. It also packs 9.0 percent ABV in a 375 mL can.
Cutwater Gin & Tonic
While Geniesse recommends Cutwater's Old Grove Gin, he's quick to point out that this San Diego-based distiller sells a lot of fun beverages, including a Tequila Paloma, Bloody Mary, and a few different varieties of Vodka Soda. All are staff favorites at Bottlerocket. The Gin & Tonic, however, is a 1:6 mixture of Old-Grove Gin and a house-made grapefruit cucumber tonic. It's way less boozy than the typical G&T you'd order at the bar (which would likely be closer to a 1:3 ratio) but nobody is complaining ⏤ it still has 6.2 percent ABV and makes for a refreshing drink outside in the heat.
Every product on Fatherly is independently selected by our editors, writers, and experts. If you click a link on our site and buy something, we may earn an affiliate commission.
This article was originally published on