Next-Level Car Camping Gear
Kick your camping trip up a notch with an inflatable kayak, projector, and, yes, a working fridge.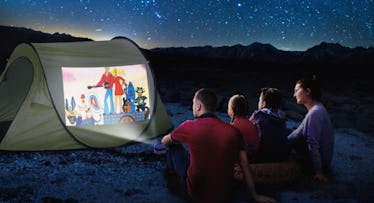 Cinemood
Packing the bare essentials for a camping trip requires a lot of planning and effort. You can't afford to forget the sleeping bags, bug spray, sunscreen, toiletries, tent, extra clothes, swimsuits, towels, water bottles, mugs, utensils, coolers, ice, pillows … the list goes on. So finding room for fun extras like a grill, a kayak, a projector is out of the question. Or is it?
With some cleverly-designed products — say, a grill that somehow folds perfectly flat — you can easily add some next-level car camping items. We admit such items are somewhat antithetical to the whole reason for a weekend in the woods, but they can also make the experience memorable. In other words, when you're grilling dogs and drinking cold beer from your portable fridge as the family watches a movie on the side of the tent, you'll thank us.
So you've got your meals planned out: steaks Friday, hot dogs Saturday, and burgers Sunday. That's a lot of time to put faith into your cooler, no matter how much ice you cram in there.
Take away the worry and keep everything fresh with a 72-can capacity electric refrigerator. No ice needed, because this bad boy keeps cool using heavy-duty batteries that recharge in the sun. You can even turn it into a freezer and keep tabs on the temperature with an app.
The Domestic CFX does take up a chunk of your trunk space, but what's a reinforced cooler other than a big strongbox to help you lug everything else around?
Alright, so you've figured out how to keep the food cold, but just because you're out in the woods doesn't mean you need to eat like an animal. The Coleman RoadTrip X-Cursion grill folds up to fit easily into your car. Once it's set up, though, it is a spacious grilling space, complete with a built-in counter, a grease trap, and ample room for a dozen dogs. Even if you had terrible timing and planned your trip for a rainy weekend, the grill has an easy one-button ignition and can last about an hour on its highest setting per 16-ounce can of propane.
The Gazelle Outdoors Pop-Up Tent
Pop-up tents are superior. There, we said it. Instead of cursing under your breath while your kids try to "help," take away all the setup stress with a tent that springs into shape within seconds. This 9' x 6.5' tent makes for a spacious bedroom, and you'll never need to worry about the frame collapsing overnight because you forgot to secure a pole in the right place. When you're done, it quickly folds flat — no rolling and stuffing it into the bag required.
Camping is about connecting with the woods, sure, but after days of playing streams, hiking mountains, fishing in ponds, there's nothing wrong with rewarding your kids with a movie by the fire. Besides, it's a cool trick. This projector is built into a three-inch cube and comes loaded with e-books, audio stories, and music, so you won't need to load up your car with countless books, screens, and other devices just to keep your less-than-enthused kids busy for up to five hours.
Always wanted a boat but never quite knew how to get it to the water? With just an air pump and oar, you can finally don your captain hat and hit the lake. This heavy-duty inflatable kayak comfortably fits two and is far more affordable and low-hassle than buying a canoe. It's also probably more comfortable — instead of the wooden benches built into the canoes at your old summer camp, the inflatable seats in the Explorer K2 is more like an armchair designed to keep you relaxed while you row.
This article was originally published on