Want Instant (Film) Gratification? Buy this Top-Rated Toy Camera
An instant picture and video camera with a gaming device, all in a kid-friendly design.
by Sal Vaglica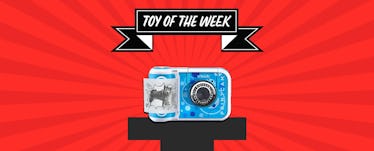 Something awesome happens when kids document life using photos. Parents get to see what kids value — from shots of family, friends, and the dog to their favorite toys and selfies. Many, many selfies. You could hand over your smartphone, or get your kid a camera of their own, like the VTech KidiZoom PrintCam. If this (vaccinated) holiday might feel a bit more normal with family and friends, ask your kid to capture it all from their perspective.
Aimed at kids four to 11 years old, the V-Tech is two devices in one. The 3 1/2 x 5 1/2-inch body houses a nearly 2 1/2-inch color screen and takes videos and photos through a 2.0-megapixel camera. Yes, that's about the quality of the first-generation iPhone. Once they take a photo, kids can print black and white images through the camera's thermal printer (think: the printer most cash registers use) that spits out in front. While the images don't have the nostalgia of shaking a Polaroid, they also don't require replenishing an ink cartridge or buying fancy photo paper. The included paper roll can create about 80 images. Additional rolls run about $10 for a five pack. What about gobbling up AA batteries you ask? There are none — a rechargeable battery inside runs about four hours with continuous use.
The control panel has big, easy-to-push buttons, which makes navigating the menus easier. Kids can pick from 40 filters to add effects to videos and photos. Parents can save any content stored in the camera's internal 256MB memory to a laptop using a USB cable. The lens flips up so kids can take selfies too.
The printer gives kids the option to spit the images out as pictures, a comic strip, a panorama, or something to color. There are also three kid-friendly built-in games they can play. Parents can set limits on the number of photos printed or the time limit on games.
Every product on Fatherly is independently selected by our editors, writers, and experts. If you click a link on our site and buy something, we may earn an affiliate commission.